neontools is a free online marketing toolbox made for marketers and business owners.
In this tutorial article we want to provide an overview on how you can use them for your own success.
Currently included are the following tools:
Prefer Video?
Head to our Youtube Channel and watch our Tutorial Videos
Before you start
Neontools are professional marketing tools. Although they work perfectly on a mobile phone, we recommend using them on a Desktop device for improved usability.
With our latest update, you are now required to link your Facebook and Instagram accounts to use each tool without limitations.
To do so, simply follow those easy steps:
1. Go to your profile settings and press the Connect Facebook button. This will automatically send you to your Facebook page, where you need to accept the connection with your designated Facebook profile.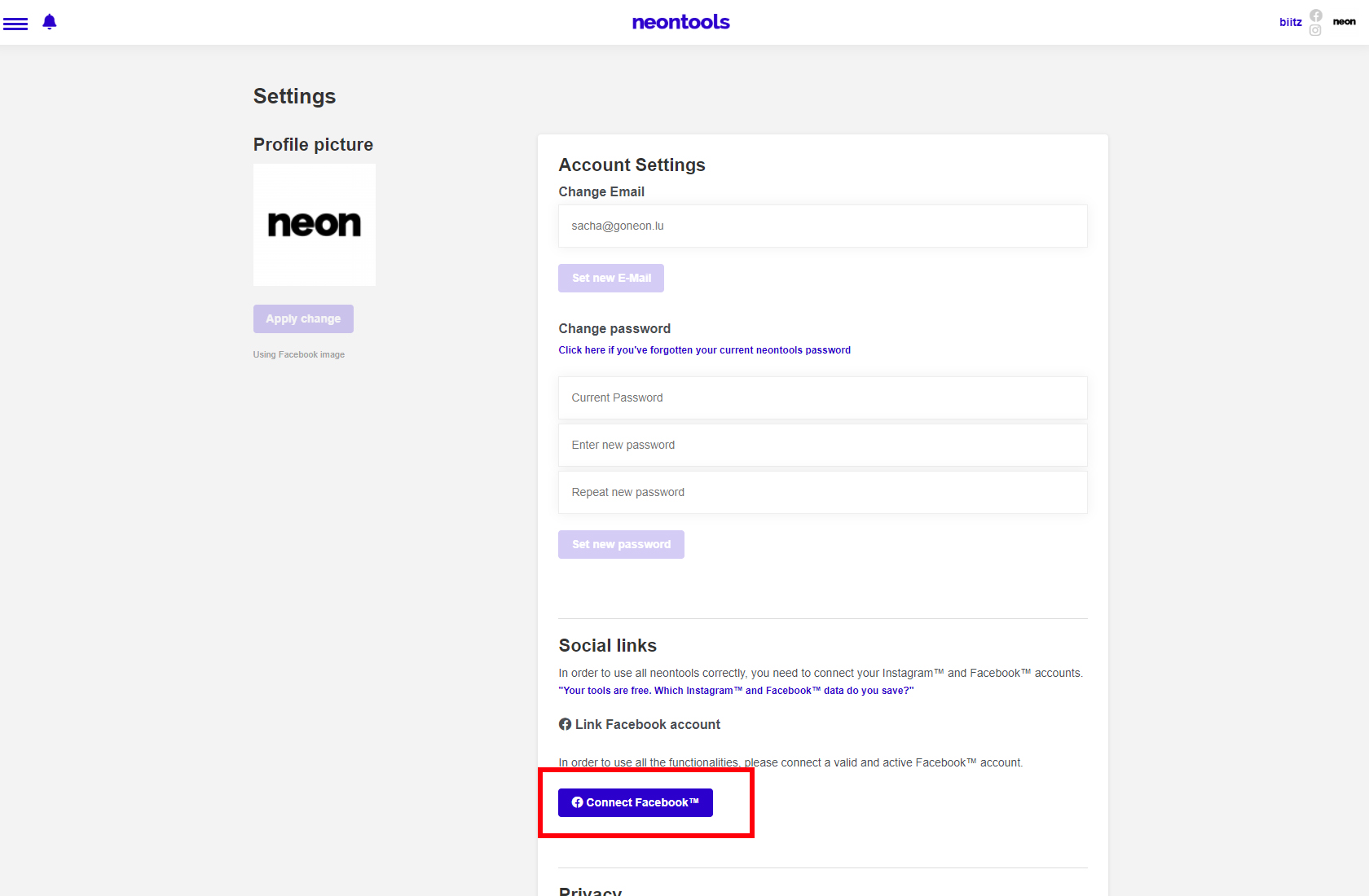 2. Now it's time to do the same for your Instagram account. If you run or control several accounts you will be able to pick the desired account.
! Due to updates from Instagram, you must connect a business or influencer account to use our Instaboard !  Private accounts do no longer have permission to extract those information.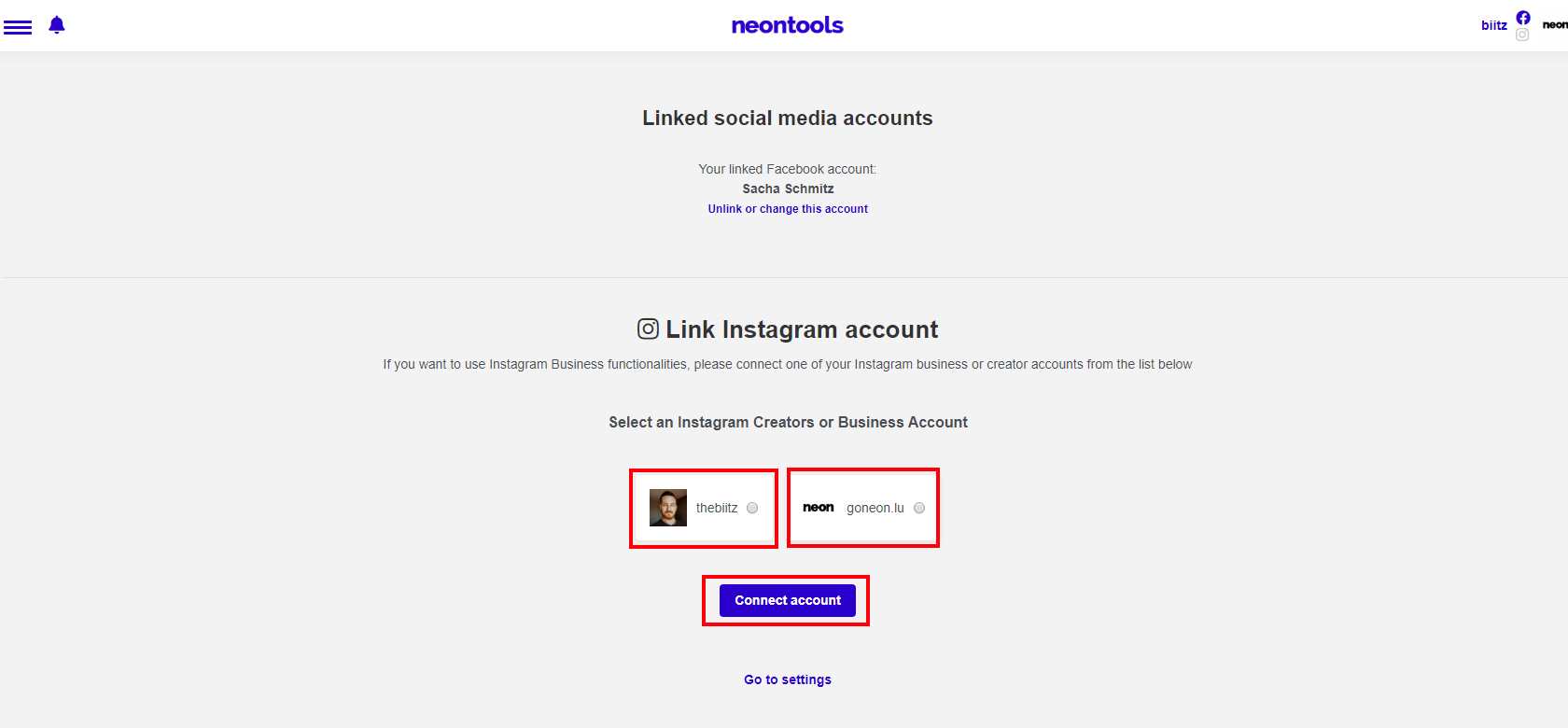 Once this is done, you are good to go. Enjoy!
The tools
Tool #1 – neon.ly URL Shortener
Why?
URL Shorteners have 3 main advantages:
1. They allow you to gather meaningful data about the clicks on your URLs (for example the number of clicks or your audience's geographical location)
2. They make your URLs shorter so they can easily fit into a tweet or an SMS.
3. They allow you to mask or rewrite your links.
A detailed overview on why you should use URL Shorteners is available in this article on our blog.
How to:
Create a short link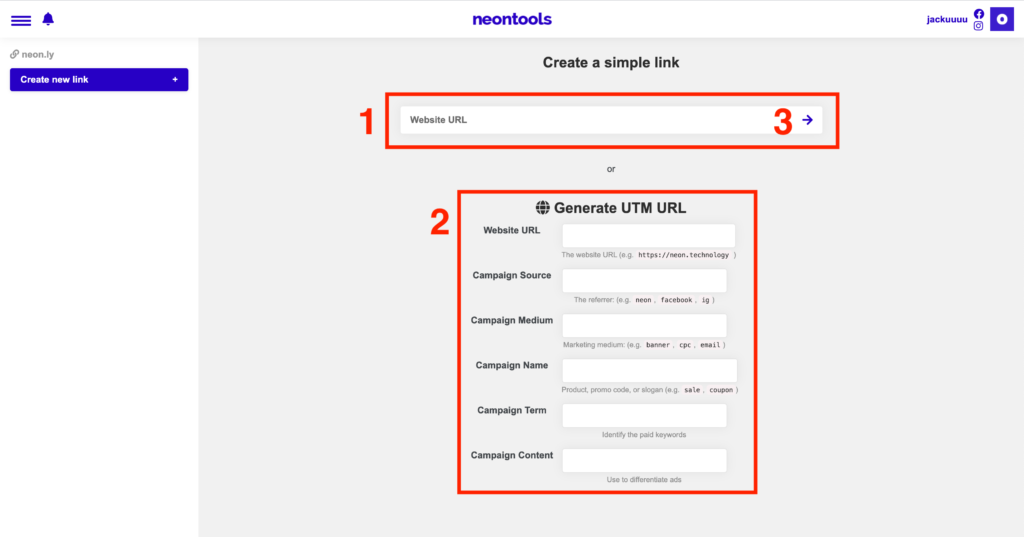 Copy-paste the URL that you want to shorten (= "the base URL") into the "Create a simple link" field (1).
If you also want to add UTM tags to your link, you can use the "Generate UTM URL" form. To learn more about UTM tags, check out this article on our blog.
Then click the arrow to confirm.
Modify your short link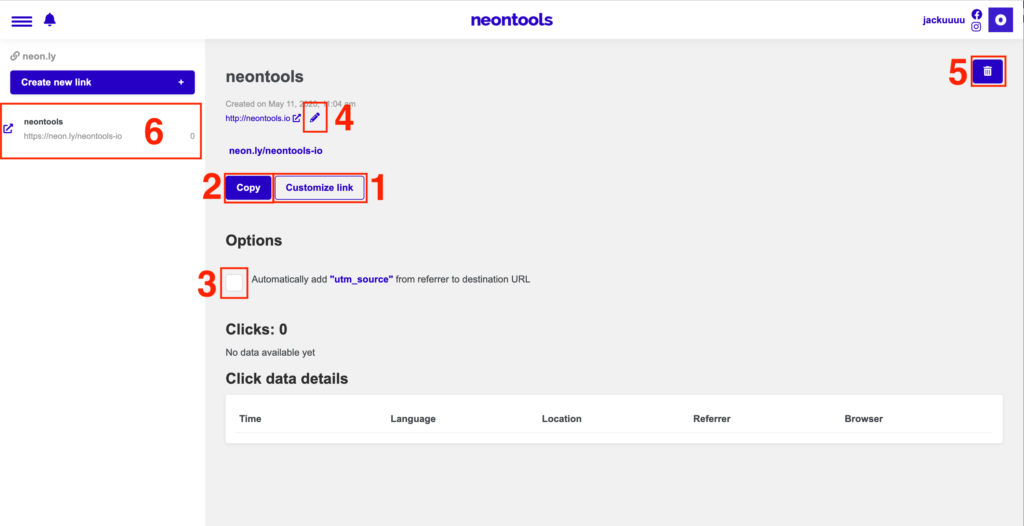 Congrats, you shortened your base URL and turned it into a neon.ly! The next screen is a specific screen for the neon.ly you just created.
With the "Customize link" button (1), you are able to change the slug (what comes after the slash in "neon.ly/").
The "Copy" button (2) allows you to copy the neon.ly to your clipboard.
If checked (3), our tool will automatically add the referral UTM source. So, if someone clicks on your link on Facebook, we will automatically add "?utm_source=www.facebook.com" to the base URL, so you see the information in Google Analytics.
Modify your base URL here (4).
Delete the entire link (5).
You can always go to this page by clicking on the respective neon.ly in the sidebar on the left (6).
Analyze click data 
Once you've shared your link and people click on it, data will start to appear below the edit options in this page. Remember to refresh the page to update the data, as it doesn't update in real-time.
For each click, you will see:
Referrer: The websites or apps where people clicked on your link
Browser: The Web Browser people used when clicking on your link
Mobility: Did they use mobile or desktop?
Location: The geographic location where your users come from
Browser Language: The language of their web browser
Once you've collected a few clicks, your interface will look similar to this: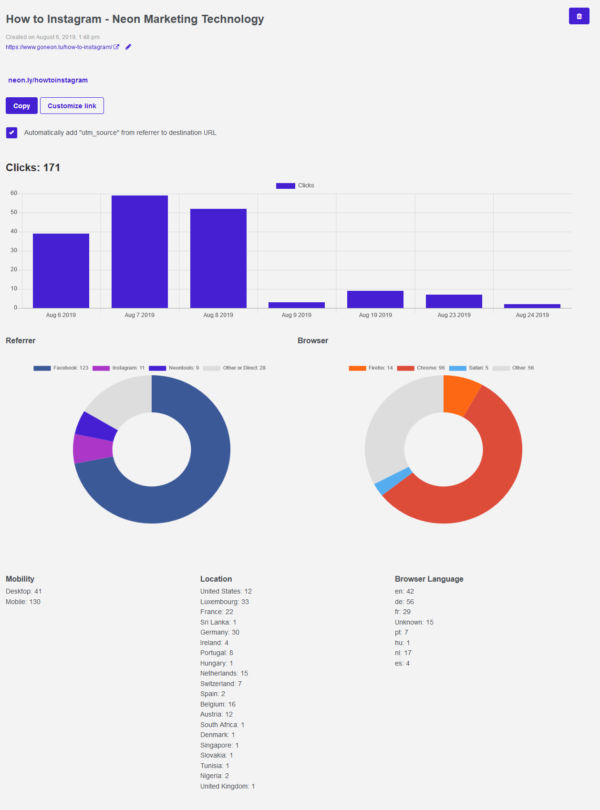 If you are still unsure, check out our short hands-on video, that guides you through neon.ly:
Ready?
---
Tool #2 – neon.link Link Collection
Why?
Neon.link lets you create a webpage, on which you can accumulate a multitude of links to your desired destinations. This comes in especially handy whenever you want to share multiple links on a platform that limits you on sharable links, such as the biography on Instagram. You use your one neon.link to redirect your followers and fans to your collection, where they can explore a variety of links and the associated descriptions or thumbnails.
To give you a visual idea of what this collection can look like, we will give you an example of an already edited link collection, before we elaborate the numerous little features and settings: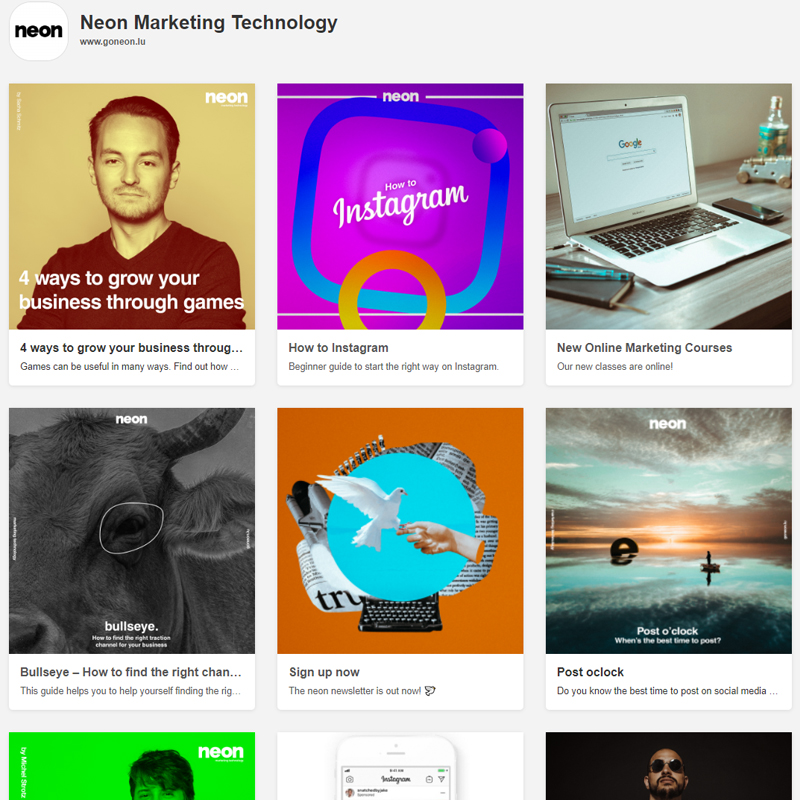 How to:
Before you can start adding and editing your links and collection, you first have to create an actual collection. To do so, you need to click on the left-hand button 'Create new Link Collection' in the side-bar. As soon as you click, a new page will be created.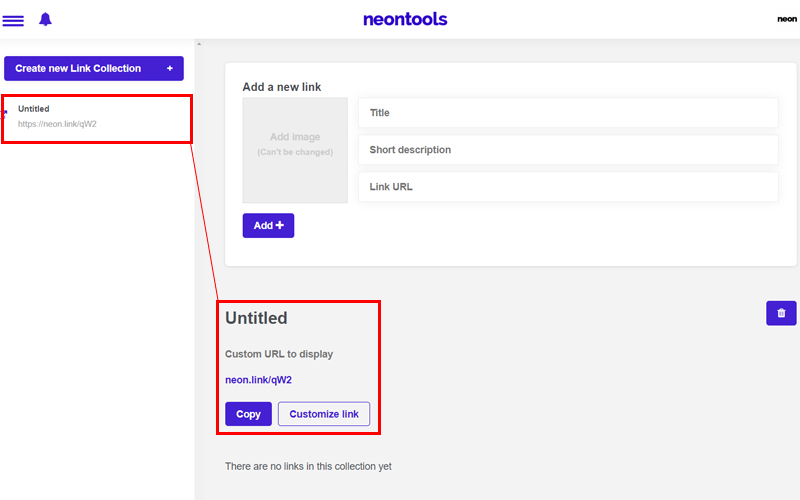 So far your new collection doesn't have a name (untitled) and the URL to your collection is automatically set by the tool (neon.link/qW2). If you want to rename your collection, all you need to do is click on the word untitled. Additionally you can customize your direct link (URL) to the collection and name it as you like. In our example we will name the collection 'Neon Blog', and the set the link to 'neon.link/NeonBlogPosts'.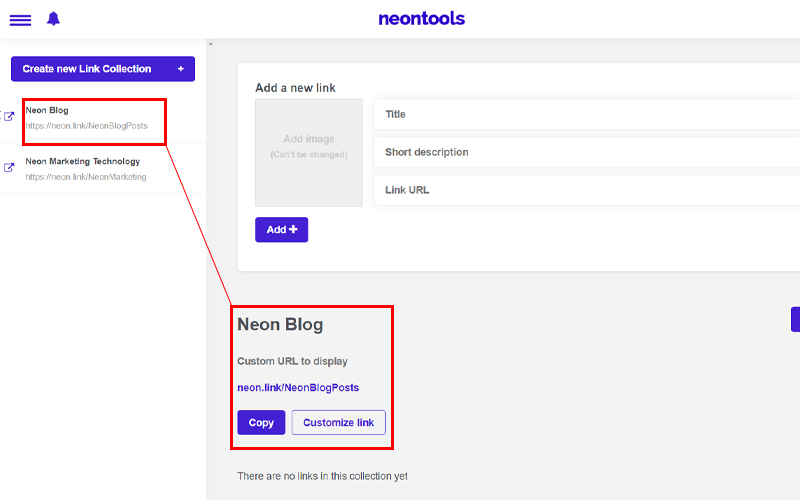 Your first link collection is now up and running. You can click on the neon.link/NeonBlogPosts (or whatever you named it) and it will bring you to your collection webpage – which of course will be empty right now.
To add the necessary links to your collection, you will need to makes use of the upper part of the tool 'Add a new link'.

All you need to do is fill out the blanks with the intended content and click 'Add+', whenever you are happy with the result.
A filled form could like this: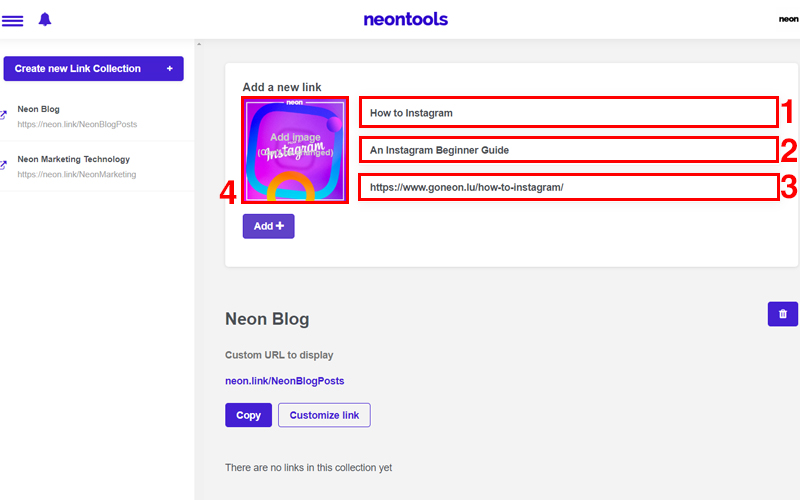 Define the title that will be shown on the webpage beneath the image.
Add a short description of the content or link destination e.g., which will also be shown on the webpage
In here you can paste the URL which you are directing to (e.g. your blog, your website, your shop)
Upload an image that will act as a thumbnail on the webpage. Keep in mind that the image ideally should be in a 1:1 format and that it cannot be changed later!
Once you added the required link-blocks, you can do a couple of little things to change the appearance.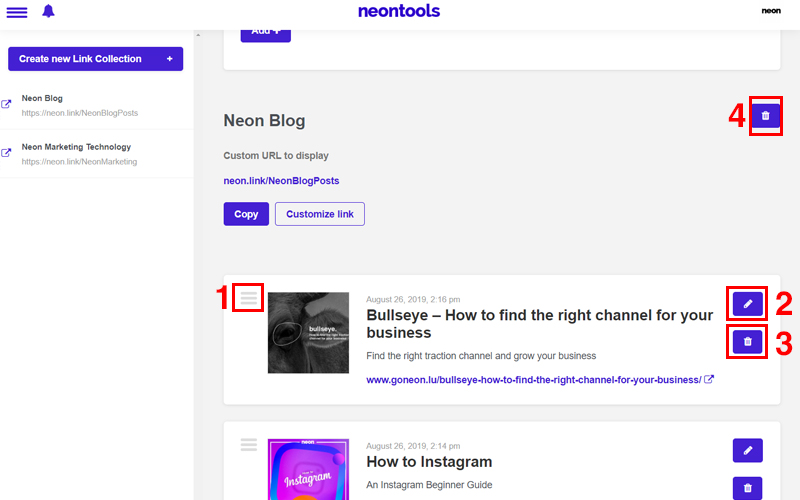 This symbol lets you change the link's position in the list. If we wanted the 'Bullseye' post to be underneath the 'How to Instagram' post, we would simply click on this symbol and drag it down to the correct spot.
If you want, you can still edit the title, description, and link of each block – not the image though.
This bin-symbol will delete the particular block.
Whereas this bin-symbol will delete the whole link collection with all it's added link-blocks.
Repeat all of those steps as many times as needed, until you have added all the link-blocks that you want to share in your collection. Now copy the link of your collection and put it in your Instagram Bio, your tweet or wherever you are about to use it.
Watch our video guide to get an even better understanding:
Ready?
---
Tool #3 – Instaboard Influencer Collection
Why?
The Instaboard is a gathering and analyzing tool for Instagram accounts. With it, you can create collections, for you or your customers, and fill it with influencers for example. This can be helpful if you are looking for influencers or brands to collaborate with. You can name your collection, put the accounts in the desired spot, and analyze each account's statistics.
If you want to learn more about how to work with Influencers, check out this article from our blog.
How to:
Analyze an Instagram profile

Use the search bar on the top left to enter the username of the account you want to analyze. Hit the magnifying glass (1) to start analyzing.
Interpreting the numbers
After submission, the tool will load data for a 5-20 seconds after which you should arrive on a page like this: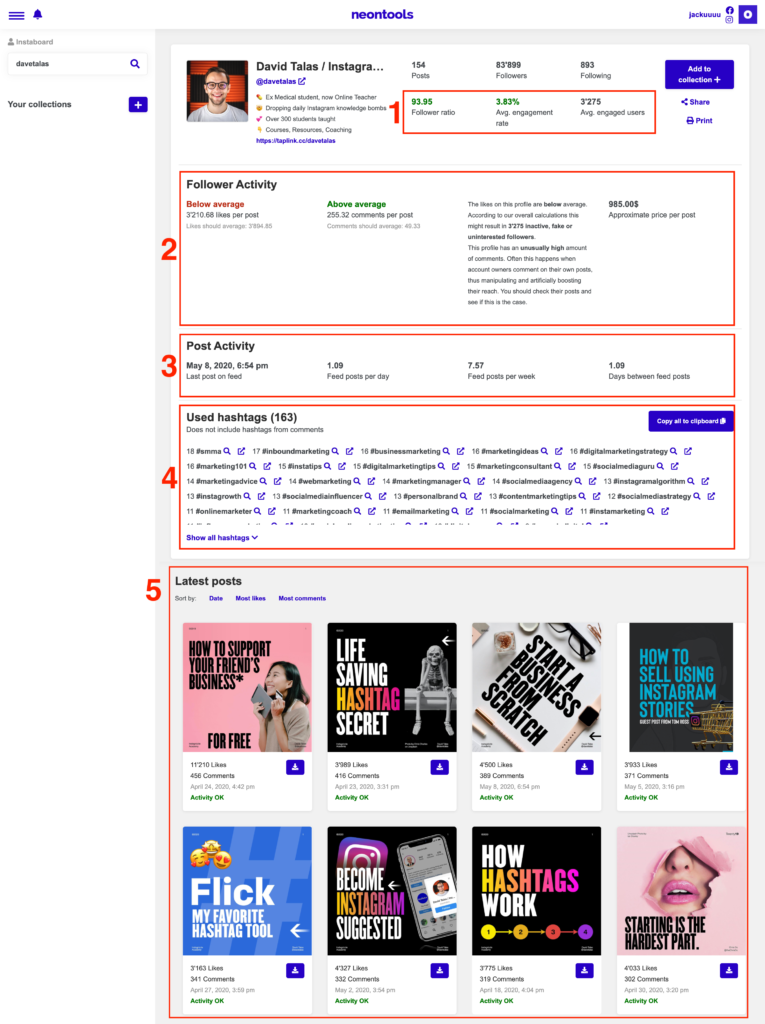 General averages

Follower ratio: The relation between followers and accounts followed. The higher this number the better. It's a good indicator to see if the account uses a follow/unfollow tactic.
Average engagement rate: The average portion of followers that engage with each post. The higher the better. It's a good indicator to see if followers really take notice of the posts.
Average engaged users: The average number of users that engage with posts.

Follower activity

Likes per post
Comments per post
Automated evaluation: Statistical evaluation of the profile based on the averages.
Approximate price per post: How much could they ask for promotional posts?

Post activity

Last post
Posts per day
Posts per week
Average days between posts

Used hashtags

Magnifying glass: Analyze hashtag in our Hashtag Analyzer.
External link button: Open the hashtag in Instagram™'s explore feed.
The hashtags used in the caption of the feed posts. Expand the section with the "Show all hashtags" button.
Copy all hashtags to your clipboard with the "Copy all to clipboard" button on the right

Latest posts

Sort posts by date, most likes or most comments at the top
For each post you can:

Blue button: Opens post image in order to download it
Click on "card": Opens the post in Instagram™
Activity evaluation per post: in the bottom of each "card"
Create collections and save accounts

Create a collection with the "+" button (1) in the sidebar on the left.

You can edit the title of the collection at the top of that page.
Collections will be displayed in the sidebar on the left.

Use the "Add to collection +"  (2) button. Choose the collection(s) you want the account to save to and confirm.
You can now open the collection in the left sidebar and find all the accounts that you've saved there.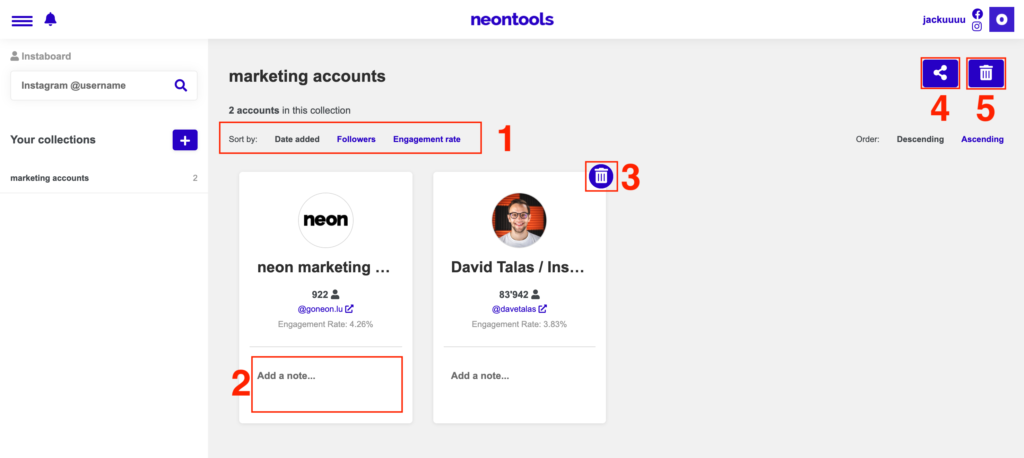 Sort by date, followers or engagement rate.
Add a note and stay organized.
Delete this account from the collection (button appears when hovering over the card.
Share the collection with a link (no need for a neontools account to view the collection with the link).
Delete the complete collection with all the saved accounts.
 Check out our short video-guide, if you still have open questions  :
---
Tool #4 – Hashtag Analyzer

Why?
Our Hashtag Analyzer tool works with Instagram. Here, the right hashtags can take you a long way and decide on whether your posts get the reach they deserve. Our tool allows you to easily find related hashtags for specific topics. It's basically a search engine for hashtags.
If you feel inexperienced or don't know where to start with Hashtags, we recommend you read this article first.
The more hashtags you use on an Instagram post, the better for your reach. The maximum allowed per post on Instagram is 30. In this sense, it can be easy to lose track of all the different tags you've used in the past. Therefore we've created Hashtag Collections that allow you to group your favorite hashtags by subjects and find (and copy) them later.
How to:
The Hashtag Analyzer is one of the most complex tools and it is split into 2 parts:
Collections
Hashtag Analysis
#1 Collections
Collections represent groups for your hashtags. Putting multiple hashtags into a collection will allow you (or your clients and co-workers) to use them for your own posts easily.
The first thing you want to do when using the tool is to create your first collection by clicking the "+" Icon on the left sidebar. This will create a new and untitled collection.
Name your collection by hovering or clicking into the "Title" field. Then press "Enter".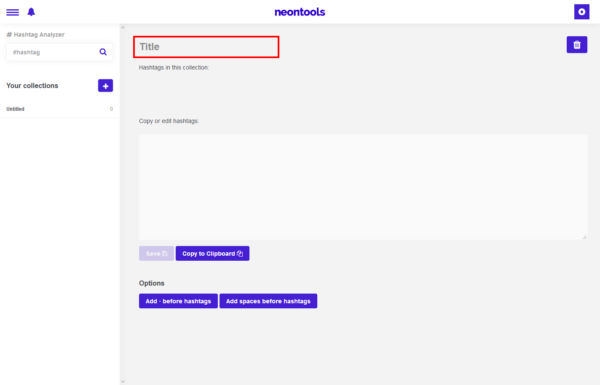 The created collection will be empty for now. You can simply type new hashtags into the white text field, or add new ones by using the Hashtag Analysis tool as explained in the next step.
#2 Hashtag Analysis
To use the analysis tool, enter the hashtag that you want to analyze in the search field on the top left.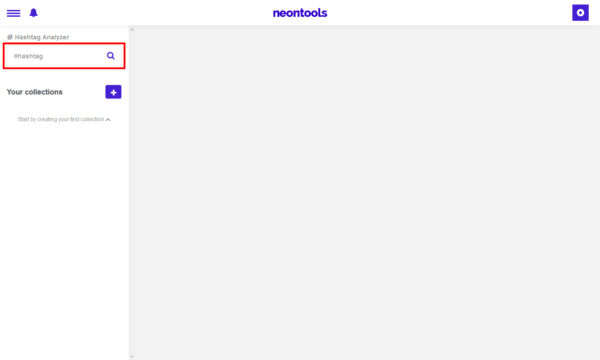 Once you press enter or the Search Icon, the analysis will start. After a few seconds, a new window will appear that lists a variety of information about your hashtag.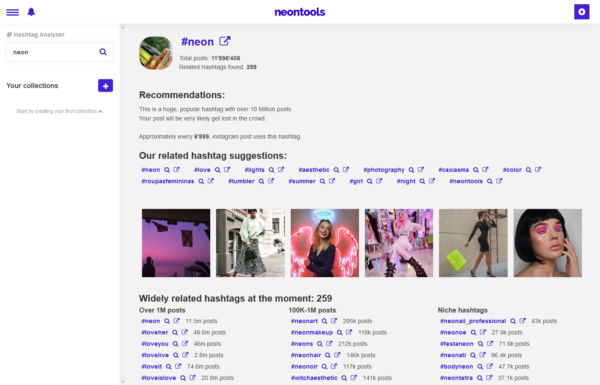 The icons next to the individual hashtags represent two options: Analyze hashtag with Hashtag Analyzer & Open on Instagram.
The most important thing you need to know when using the tool is that hashtags can be clicked. Once you click on them, you will be able to add them to your collections. Multiple hashtags can be selected at once.
After the first click, a purple bar appears at the bottom of your screen, with a button titled "Add to collection". In order to add all your selected hashtags, click this button and select the collection where they should fit into. Again, multiple collections can be selected at once.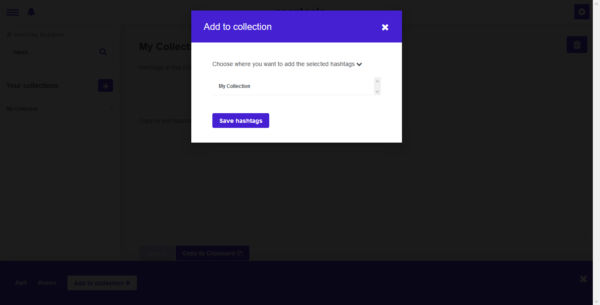 As for the results:
"Our related hashtag suggestions" is a list of closely related hashtags in real-time. Most times these are safe to use, however, the list is not complete and you should double-check whether they make actually sense for your own post.
"Widely related hashtags" is a list that is divided into 3 parts. It displays many different hashtags that were used by other users in relation to the hashtag you searched for. This list will help you find the most interesting hashtags for your own post. Make sure to crawl over the list and select (click) the hashtags you like best.
As smaller (or niche) hashtags typically perform better for most accounts, these are in many cases the most promising for you to look out for.
Get more information in our video-guide of the Hashtag Analyzer:
---
Tool #5 – Interest Browser
Why?
Whenever you are setting up ads on Facebook you should define your targeting (Who am I trying to reach?). One way to define the targeted audience is through so-called "interests". If you are searching for a certain interest in Facebook's business manager, you will see a couple of interests that Facebook is selecting for you. Those are the interest that everybody sees and uses. Therefore the competition on those interests is much higher, which means you have to spend more in the long run.
But additionally, Facebook has thousands of hidden advertising audiences that they don't show you in the Ads Manager. Our interest browser lists these for you and helps you in discovering niche audiences that you have never considered before. Decrease your costs and improve your ROAS (Return on Ad Spend) by targeting new interests.
How to:
First off, you have to set up a dedicated interest collection in the interest browser tool. You can do so by clicking the + next to the "your collections" text. You then have the option to name your collections for easier navigation later.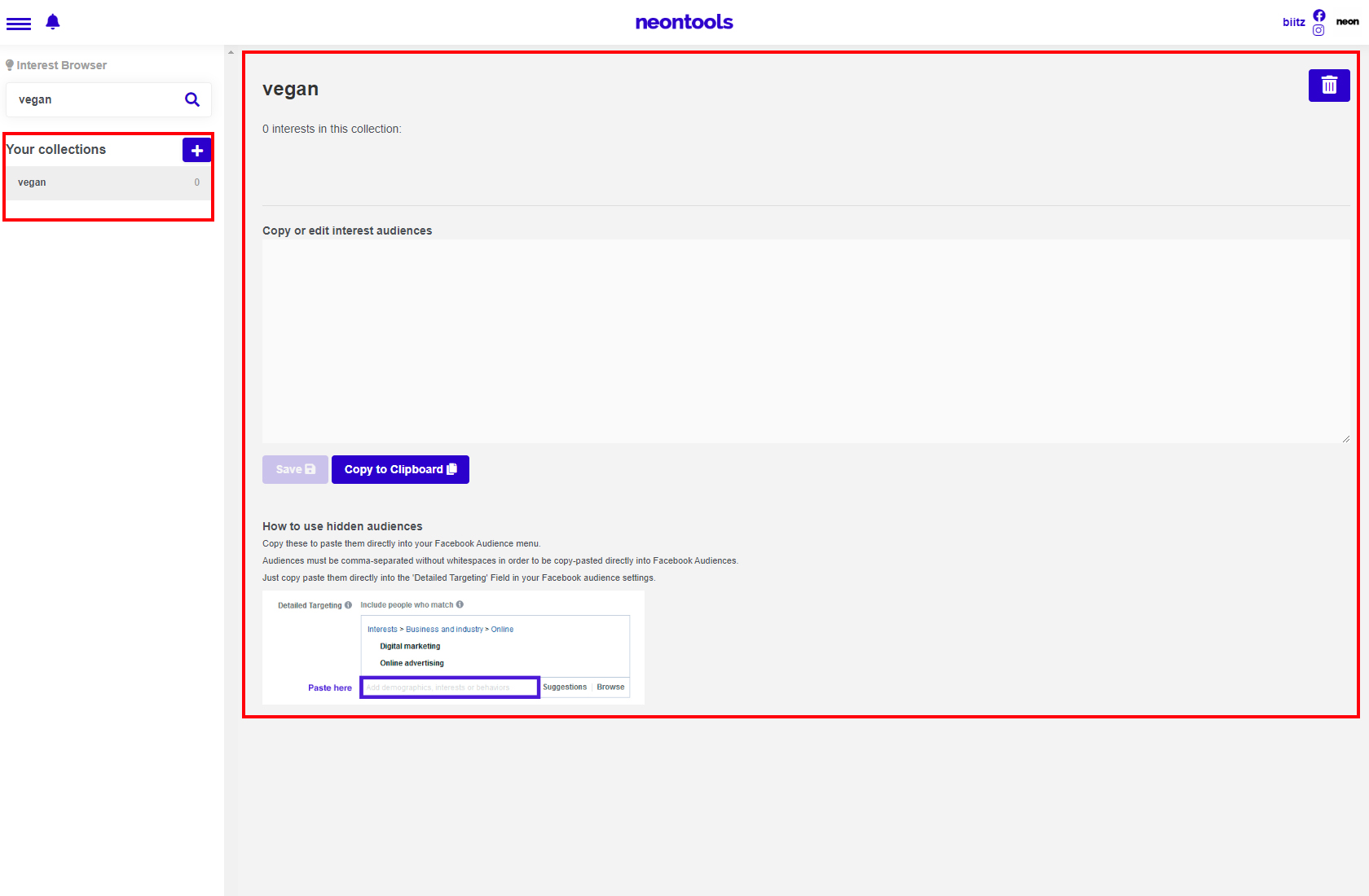 Once your collection is created, you can start searching for your list of interests. Choose a keyword that describes the targeted audiences and see which interests Facebook has to offer you. In our example, we picked the keyword VEGAN.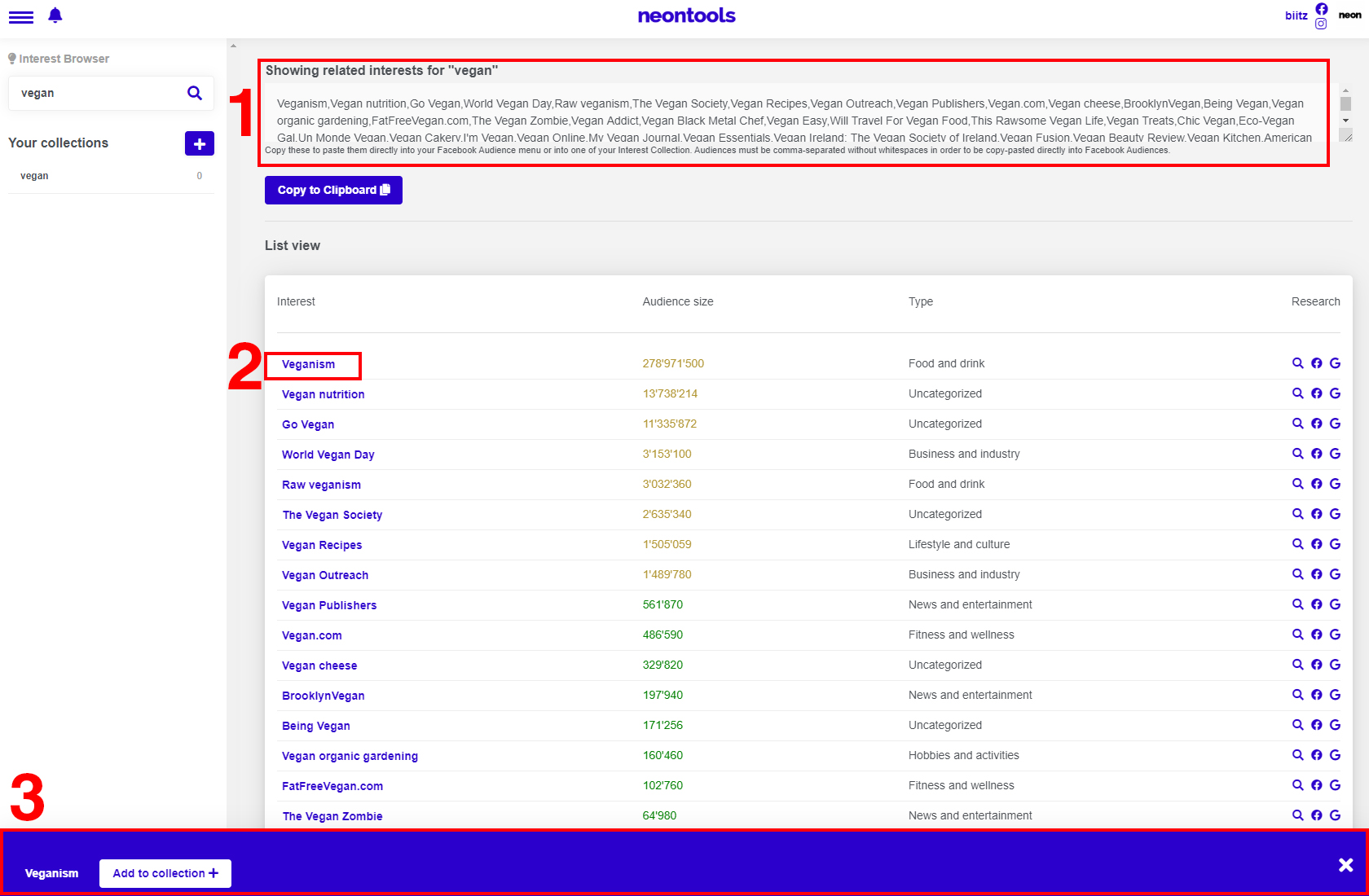 The Interest Browser offers you a list with related interests based on your initial keyword. At this point, you could copy this list to your clipboard and add it to the dedicated spot in your Facebook Ads Manager.
If you rather want to pick the interests by yourself and create a more elaborated list you can simply click on the desired interest.
By clicking on an interest you paste it to the bottom-bar, which lets you save all the chosen interests into your collections.
After adding the selected interests into a collection, you can go back to said collection to copy the list.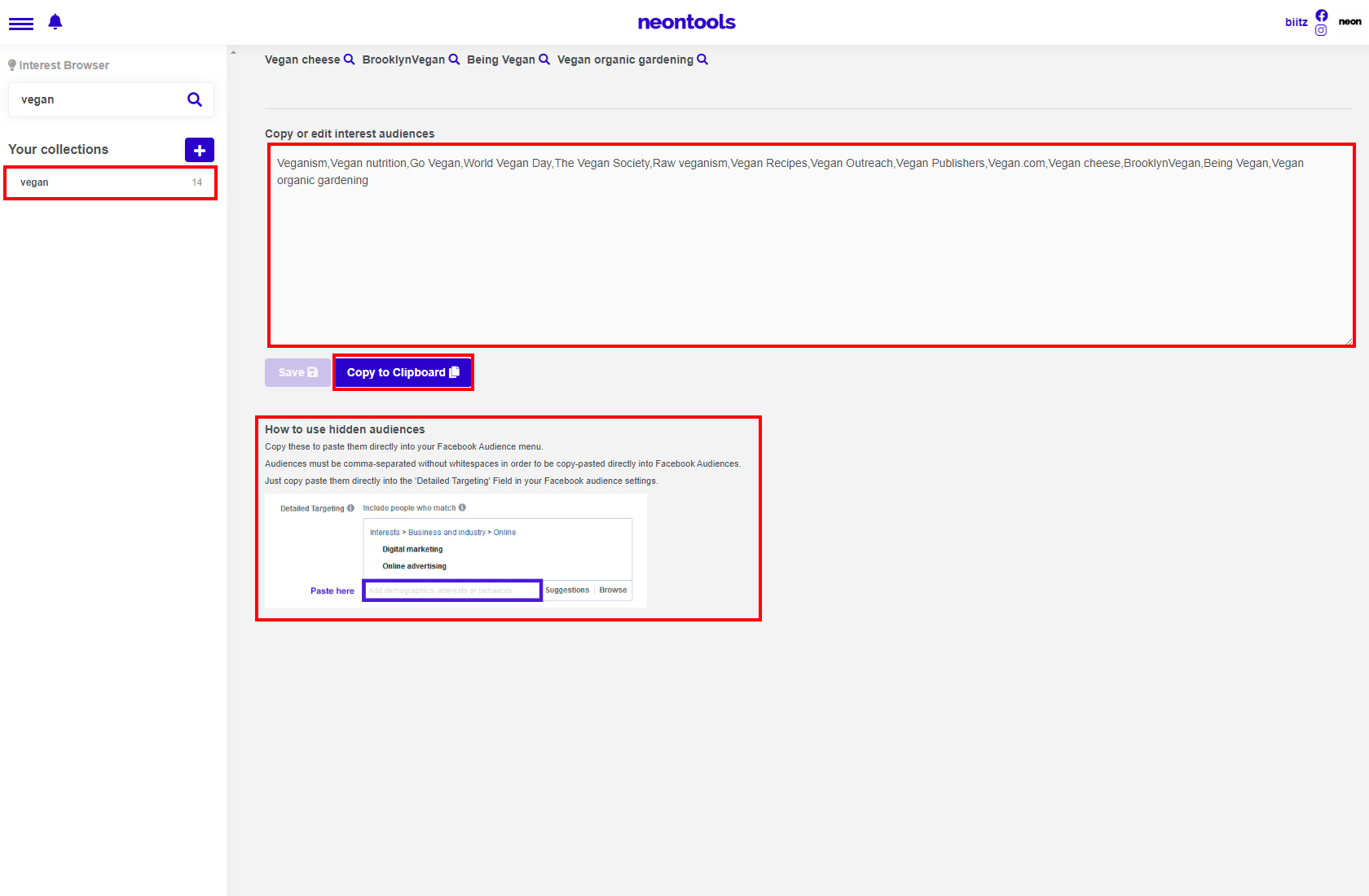 The tool even shows you how and where you have to post your interest-list, for it to work properly.
Et voila, you now collected your very own interest audience without using Facebook's predefined standard interests.
---
Tool #6 – Return-On-Invest Calculator
Why?
The ROI (return-on-investment) calculator gives you an idea of how much return online ads, on the different platforms, could bring you.  You can add the available amount (in Euro) and find out how much reach, engagement and possible leads you can generate with it. To calculate your result, the tool uses industry-standard metrics. This implicates that the result is by now means accurate or guaranteed. The ROI Calculator only gives you an idea and orientation of how far your budget can carry you.
How to:
The tool is separated in 3 different settings, which you can change to your needs: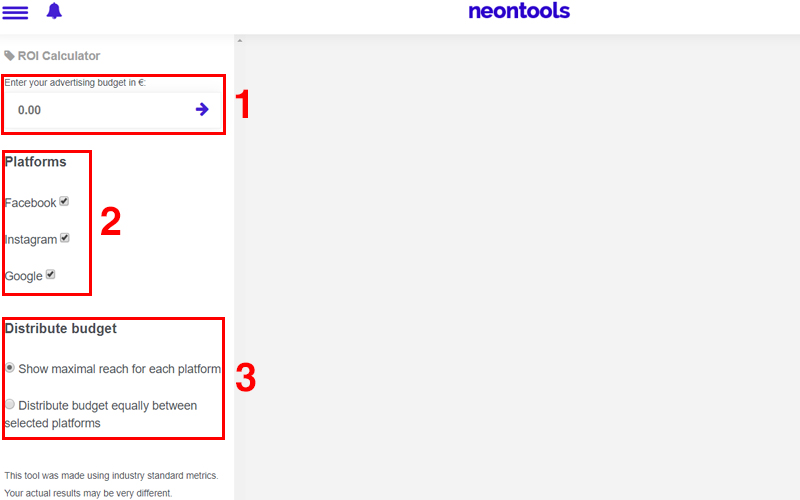 The budget that you want to spend on the ads.
The platforms you want to run your ads on: Facebook, Instagram or Google. You can select and deselect the platforms as you like.
Define how the budget should be treated:

Show the maximal reach of each platform for the full amount of the budget (e.g. 250€ out of 250€)
Or distribute the budget equally between each selected platform (e.g. 250€ split between the 3 platforms)
On our first example, you see a budget of 250€ that is set to: show maximal reach for each platform.
You will see underneath each platform, how much reach, engagement, traffic, and conversions those 250€ could bring you for said platform.
250€ for Facebook
250€ for Instagram
250€ for Google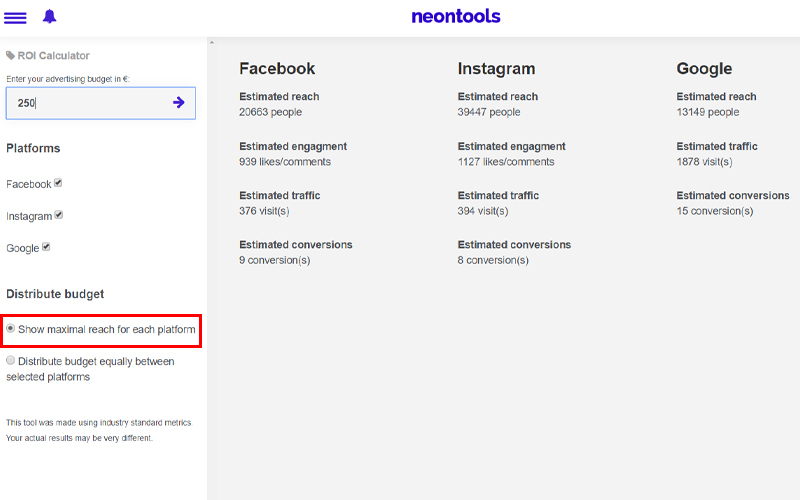 The second example takes the same budget of 250€, but this time splits it between the platforms. Each platform gets 1/3 of the budget and calculates the possible reach, engagement and so forth.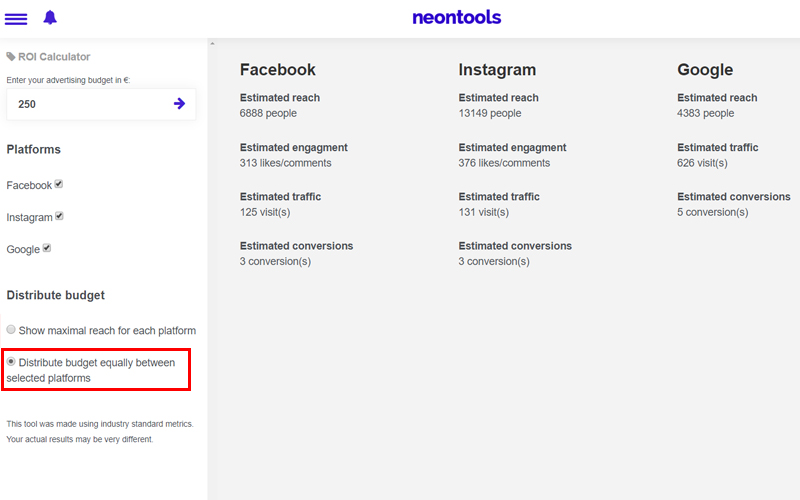 See the ROI Calculator in action, in this explanation-video:
---
Tool #7 – UTM Generator
Why?
Using UTM parameters on your URLs helps you to see where your traffic is coming from when working with monitoring tools such as Google Analytics. If they are implemented correctly, they can tell you for example which Facebook ad or post-link people clicked on to land on your page. Whereas, without said UTMs all it would show is for example Facebook. So you would never know which post or ad brought them to you in the end.
If you want to learn more about UTMs and their importance in marketing, have a quick look at our UTM tracking guide.
How to:
The UTM Generator gives you the possibility to define 5 different parameters that will be added to your final URL.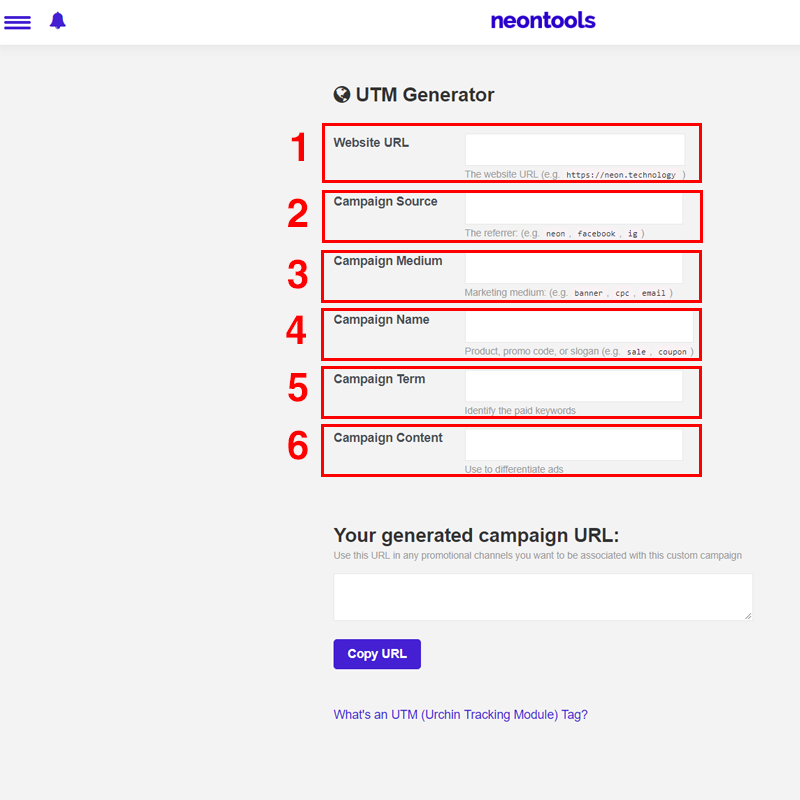 First comes your website URL. This is the page that the visitors should land on.
The Campaign Source lets you set the platform, where your link will be shared on. This can e.g. Facebook, Instagram or somebody's Blog.
In the Campaign Medium category, you are able to define which medium you used on the link. Did the visitors come from a link in the text? Or did the banner on your customers' blog bring the traffic?
On row number 4 you can name your campaign, so you can distinguish them in case you run multiple campaigns and don't want to mix the data.
Xyz
You can use the Campaign Content part to name and differentiate your ads. This will help you to see which ad brought you the most success.
Here a concrete example of how you could generate your own URL with UTMs: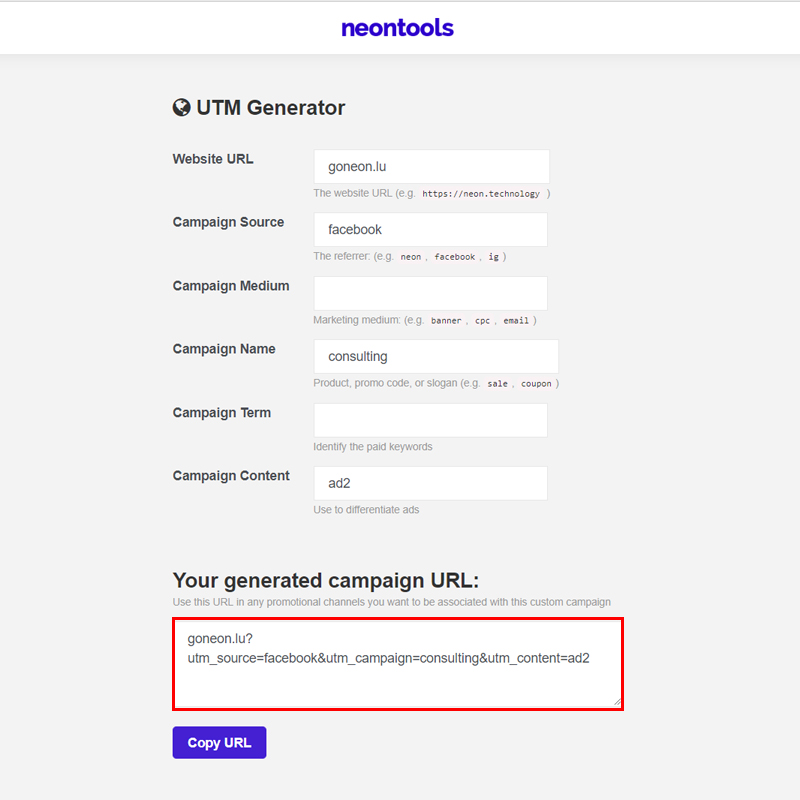 As you can see, there is no need to fill out all the categories. You will only need a couple of them, as long as you are able to differentiate where exactly the traffic was coming from. You can copy the URL now and add it to every place that should be connected with this campaign.
In our demonstration model, we decided to run a couple of Facebook ads, all of which targeted people who could use our consulting services. If you pay close attention, you will see that the campaign content is named: ad2! This should tell you, that this was a different ad than ad1 or ad3. We did this, so we can split-test design and composition of various ads, and see which performed the best in the end.
If you still aren't sure how to use UTMs correctly, take a look at this:
---
That's it for our guide! We hope it was helpful to you and that you can get the most out of our toolbox ?
If this article was helpful, subscribe to our newsletter for more: