When should you use the Reach Calculator?
to get an idea of how much return a certain amount of budget could bring you on different social media platforms.
Note: To calculate your result, the tool uses industry-standard metrics. This implicates that the result is by no means guaranteed.
How to use the Reach Calculator
The tool is separated in 3 different settings, which you can change to your needs: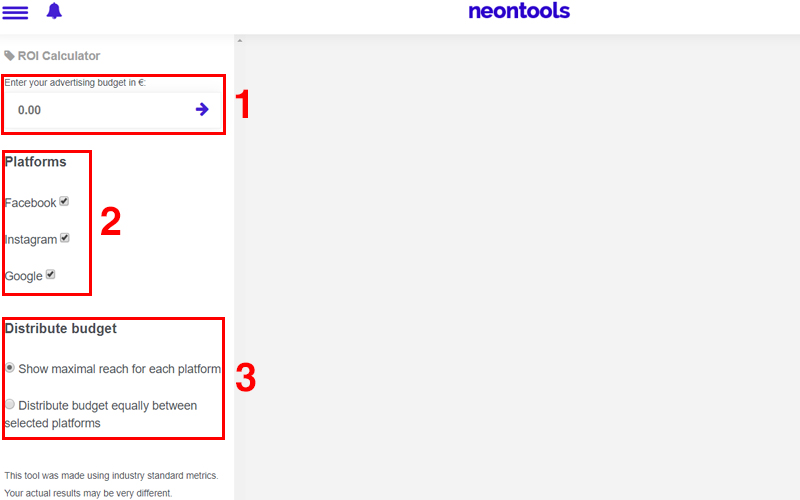 1. The budget that you want to spend on the ads.
2. The platforms you want to run your ads on: Facebook, Instagram or Google.
3. Define how the budget should be treated.
Examples
On our first example, you see a budget of 250€ that is set to: show maximal reach for each platform. Underneath each platform you will see how much reach, engagement, traffic, and conversions those 250€ could bring you for said platform.
250€ for Facebook
250€ for Instagram
250€ for Google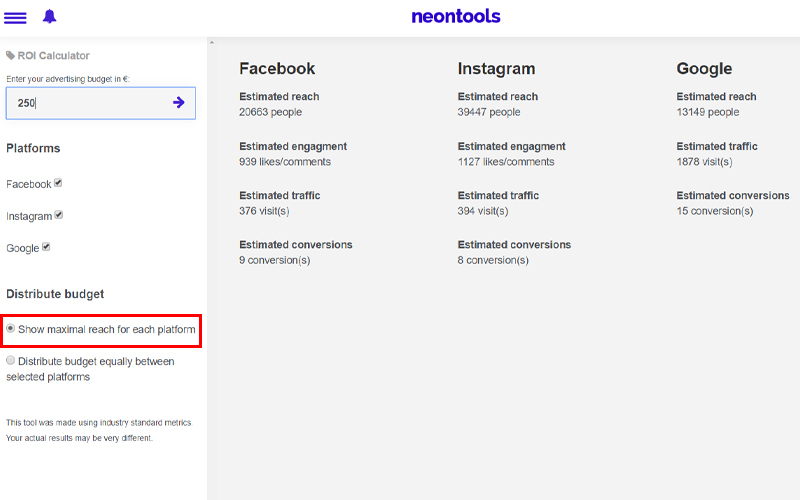 The second example takes the same budget of 250€, but this time splits it between the platforms. Each platform gets 1/3 of the budget and calculates the possible reach, engagement and so forth.
88,3€ for Facebook
88,3€ for Instagram
88,3€ for Google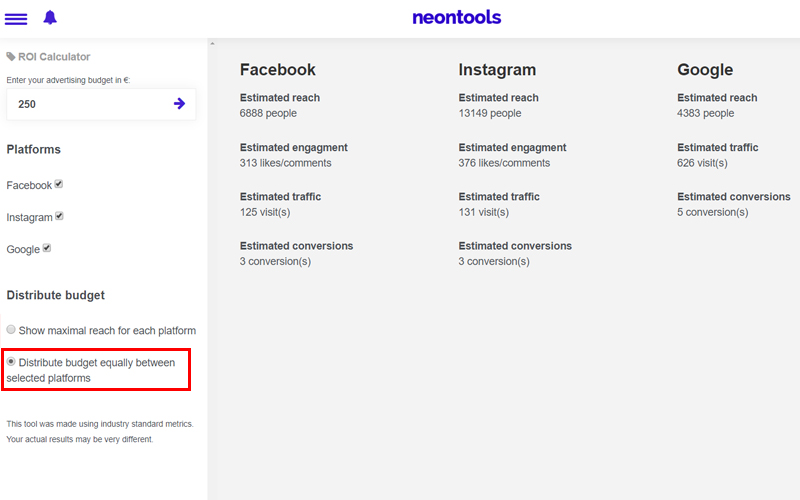 Prefer video?
---
Other tutorials
| | |
| --- | --- |
| | set up your account |
| | URL shortener |
| | microlanding pages / link in bio |
| | influencer analyzer and collections |
| | for Instagram™ hashtags |
| | for Facebook™ Ads |
| | to track your links |
| | create offline links |
Why we built neontools
We built neontools.io because we were overwhelmed by the number of marketing tools we were using to help our clients. The neontools.io platform therefore provides all these classic and essential marketing tools in one place.
More helpful content?
Join the neon newsletter!