What is the Interest Browser?
Whenever you are setting up ads on Facebook you define your targeting (Who am I trying to reach?). One way to define the targeted audience is through so-called "interests". In Facebook's business manager, you will see a couple of interests which everybody sees and uses. Therefore the competition on those interests is high.
What's interesting is that not all available and targetable interests are displayed in the Facebook Ads user interface. This means that there are some keywords, on which there's much less "bidding competition" by advertisers. The interest browser thus enables you to target your audience with more precision and less competition, resulting in lower cost per click.
When should you use the Interest Browser?
to better define your Facebook Ads Interest targeting
How to use the Interest Browser
Analyzing interests
First, choose a keyword that describes the targeted audiences and see which interests Facebook has to offer you. In our example, we picked the keyword VEGAN.
The Interest Browser offers you a list with related interests (1) based on your initial keyword. At this point, you could copy this list to your clipboard and add it to the dedicated spot in your Facebook Ads Manager.
To create a collection click the "+" Icon on the left sidebar. This will create a new and untitled collection. Name your collection by clicking into the "Untitled" field and typing a name.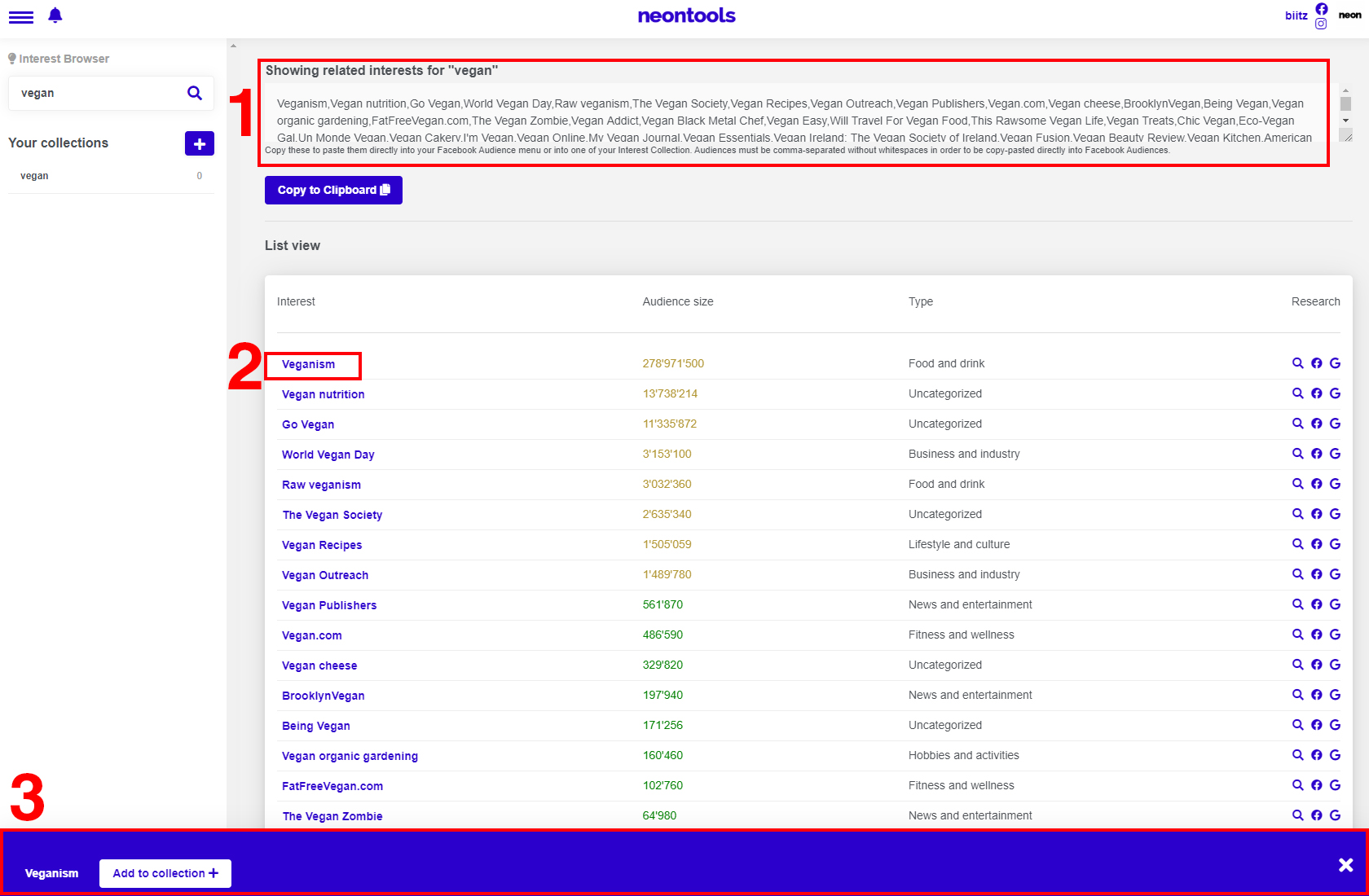 Saving hashtags into collections
1. Click on the interest you want to save to a collection to select them.
2. A purple bar will appear at the bottom of your screen. Click "Add to collection" to add all the selected interests to a collection.
3. Select the collection you want to save them to and save.
4. Done 😉
---
Other tutorials
| | |
| --- | --- |
| | set up your account |
| | URL shortener |
| | microlanding pages / link in bio |
| | influencer analyzer and collections |
| | for Instagram™ hashtags |
| | for social media campaigns |
| | to track your links |
| | create offline links |
Why we built neontools
We built neontools.io because we were overwhelmed by the number of marketing tools we were using to help our clients. The neontools.io platform therefore provides all these classic and essential marketing tools in one place.
More helpful content?
Join the neon newsletter!