When should you use the Hashtag Analyzer?
to analyze the popularity of hashtags
to find related hashtags for specific topics
to keep hashtags in collection for quick copy-pasting
Read "Hacking #ig hashtags" on our blog to learn how to use hashtags the best way.
How to use the Hashtag Analyzer
Analyzing a hashtag
Enter the hashtag that you want to analyze in the search field on the top left and hit enter.



After a few seconds, a new window will appear that lists a variety of information about your hashtag.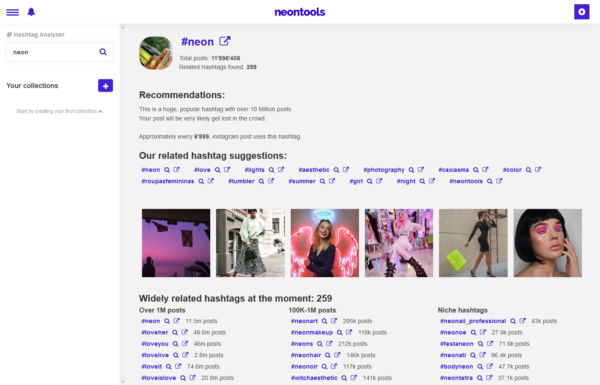 Our related hashtag suggestions

These are related hashtags which are most times these are safe to use, however, the list is not complete and you should double-check whether they make actually sense for your own post.

Widely related hashtags

Here you'll find hashtags that were used by other users in relation to the hashtag you searched for and their relative popularity. Read "Hacking #ig hashtags" on our blog to learn how hashtag popularity influencers your reach. A general rule is that smaller (or niche) hashtags typically perform better for most accounts.
The icons next to each hashtag represent two options: Analyze hashtag with Hashtag Analyzer & Open on Instagram.
Creating hashtag collections 
To create a collection click the "+" Icon on the left sidebar. This will create a new and untitled collection. Name your collection by clicking into the "Title" field and typing a name.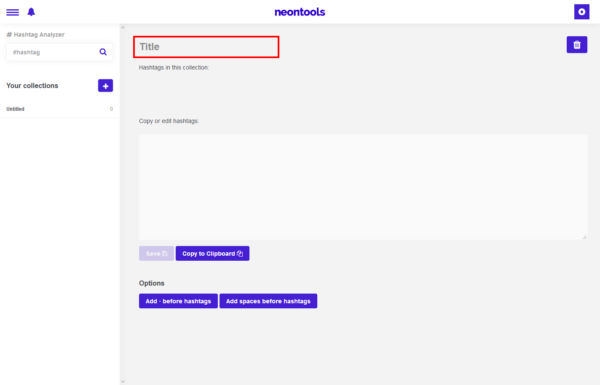 The created collection will be empty for now. You can simply type new hashtags into the white text field, or saving hashtags from the analyzer. How? See the next step.
Saving hashtags into collections
1. Click on the hashtags you want to save to a collection to select them.
2. A purple bar will appear at the bottom of your screen. Click "Add to collection" to add all the selected hashtags to a collection.
3. Select the collection you want to save them to and click "Save hashtags".
4. Done 😉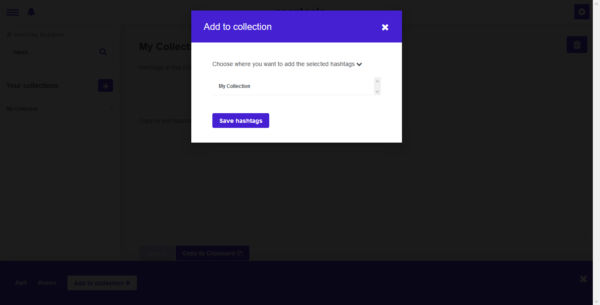 ---
Other tutorials
| | |
| --- | --- |
| | set up your account |
| | URL shortener |
| | microlanding pages / link in bio |
| | influencer analyzer and collections |
| | for Facebook™ Ads |
| | for social media campaigns |
| | to track your links |
| | create offline links |
| | for neon.ly & instaboard |
Why we built neontools
We built neontools.io because we were overwhelmed by the number of marketing tools we were using to help our clients. The neontools.io platform therefore provides all these classic and essential marketing tools in one place.
More helpful content?
Join the neon newsletter!