When should you use neon.ly?
to gather meaningful click data from your URLs like geographical location or browser info.
to create short URLs that easily fit into a Tweet or WhatsApp message.
to mask or rewrite your links to make them cleaner.
to share a link that needs password protection
Read our blog article "Why you should use URL Shorteners" to learn more about the benefits.
How to use neon.ly
Creating a short link
1. Copy-paste the URL (the link) that you want to shorten into field (1). We'll call this your "base URL".
2. Use form (2) to add UTM tags to your URL (What are UTM tags?)
3. Then click the arrow (3) to confirm.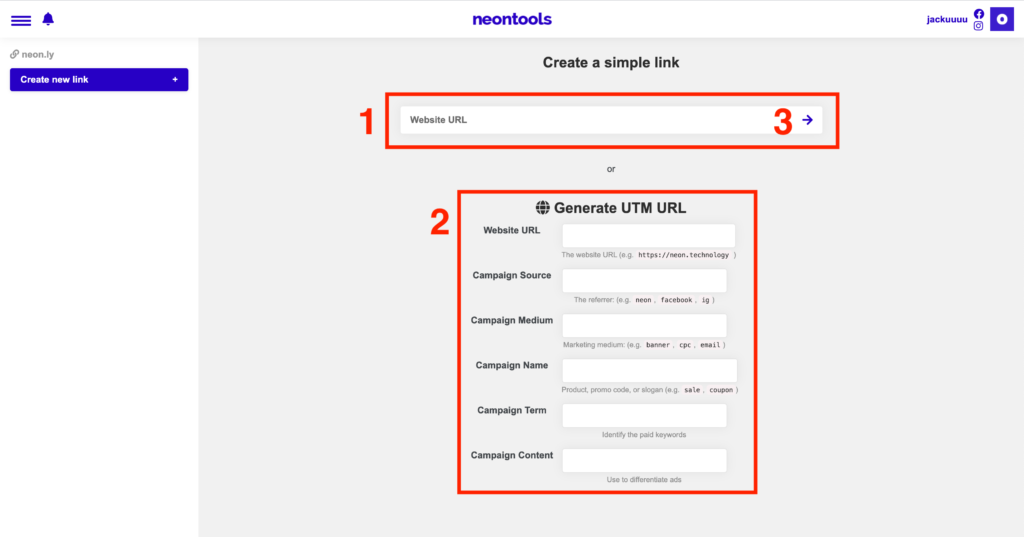 Modifying your short link
Congrats, you shortened your base URL and turned it into a neon.ly! The next screen is specific to the neon.ly you just created.
1. With the "Customize link" button (1), you are able to change the slug (what comes after the slash in "neon.ly/").
2. The "Copy" button (2) allows you to copy the neon.ly to your clipboard.
3. If checked (3), our tool will automatically add the referral UTM source. So, if someone clicks on your link on Facebook, we will automatically add "?utm_source=www.facebook.com" to the base URL, so you see the information in Google Analytics.
4. Modify your base URL here (4).
5. Delete the entire link (5).
6. You can always go to this page by clicking on the respective neon.ly in the sidebar on the left (6).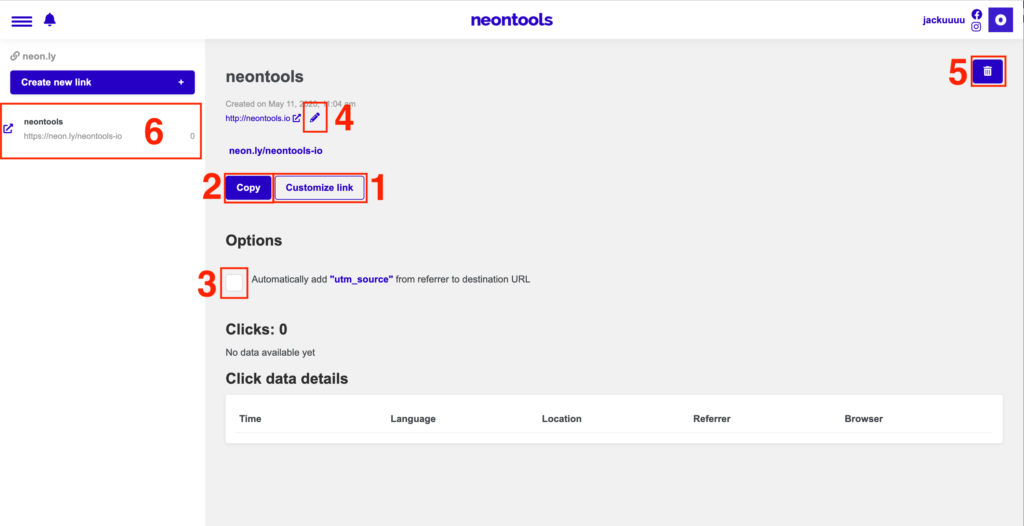 Analyzing click data 
Once you've shared your link and people click on it, data will start to appear below the edit options in this page. Remember to refresh the page to update the data, as it doesn't update in real-time.
For each click, you will see:
Referrer: The websites or apps where people clicked on your link
Browser: The Web Browser people used when clicking on your link
Mobility: Did they use mobile or desktop?
Location: The geographic location where your users come from
Browser Language: The language of their web browser
Once you've collected a few clicks, your interface will look similar to this: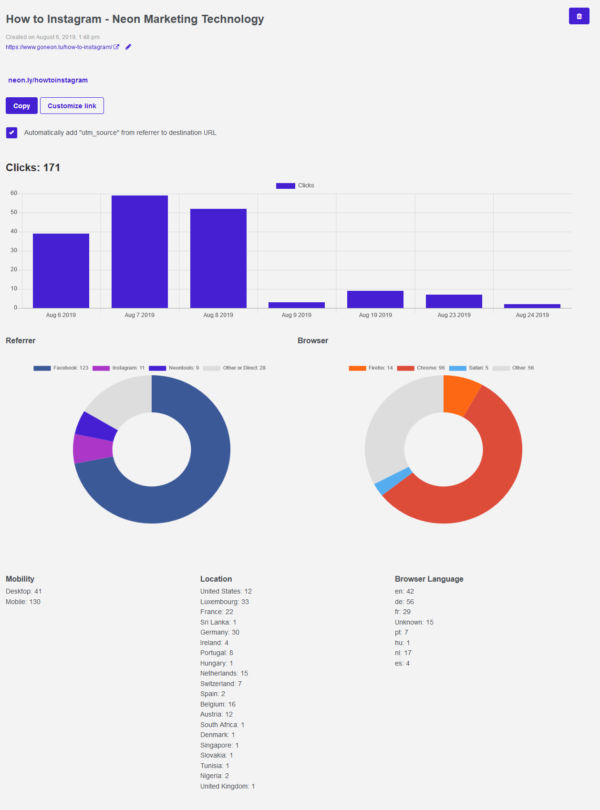 ---
Other tutorials
| | |
| --- | --- |
| | set up your account |
| | microlanding pages / link in bio |
| | influencer analyzer and collections |
| | for Instagram™ hashtags |
| | for Facebook™ Ads |
| | for social media campaigns |
| | to track your links |
| | create offline links |
Why we built neontools
We built neontools.io because we were overwhelmed by the number of marketing tools we were using to help our clients. The neontools.io platform therefore provides all these classic and essential marketing tools in one place.
More helpful content?
Join the neon newsletter!