When talking about social media marketing, usually the focus is on the platforms that have essentially created and shaped the industry: Facebook, Instagram, and YouTube (as well as to some degree Twitter and Snapchat). But as every marketer who has done their homework knows, getting significant organic reach on these platforms takes a lot of work, not to say it is almost impossible these days. Using their paid advertising options is the most efficient way to reach who you really want to reach with your brand's message, content, or product offering – but bear in mind that you will need to allocate sufficient budget for this.

However, there is one platform that has gained a lot of importance for online marketing in recent years as it still offers big potential for large organic reach: LinkedIn. 
But not just because of that, the social network is an important channel to reach your target audience, especially when you are operating in a B2B industry. 
With this post, we want to shine a light on the platform and give you an overview of how to leverage it for your marketing purposes.
1. Why LinkedIn matters
To kick it off, let's look at some numbers. During our research, we found this nifty graphic that shows why LinkedIn must be considered by everyone working on their online marketing strategy: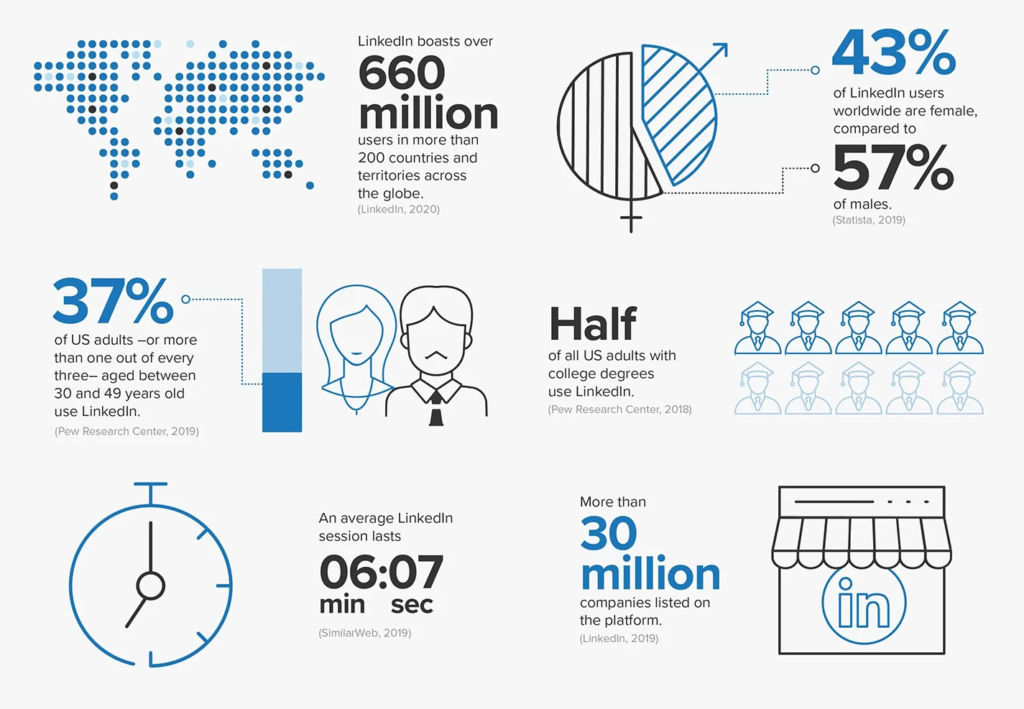 To put it straight: LinkedIn is the leading social network for business professionals. (If you are curious about the above stats, you can find more info on them here.)
Founded all the way back in 2003, LinkedIn's popularity has significantly increased just in the last 5-10 years. The number of users has actually tripled since 2013. 
As a platform with a distinct focus on all things related to "work" and "career", chances are high that a certain percentage of your target audience is active on LinkedIn. This holds true especially if you are a business owner or marketer in a B2B industry, no matter what size your business is.
But also for B2C companies, LinkedIn matters. Just think about it: 660 million users equal to just as many people who are consumers outside of the workplace. And that number of users is still growing! So there are plenty of opportunities to get attention on LinkedIn for what you do and have to offer. 
Either way, LinkedIn is one of the best channels for building your brand, generating leads, discovering useful connections as well as hiring talent. 
And, if you're not using it for a company's purposes, then it is definitely also the place to go to for new career opportunities, building your personal network, gathering useful knowledge, and creating an audience of followers based on the content you share around your professional expertise (aka personal branding). 
2. The last (trusted) bastion of organic reach
OK, to be honest: LinkedIn might not be the last bastion of organic reach as there is also TikTok, which simply continues to blow up these days. However, we would go as far as to say that LinkedIn is the last major social media platform that has been around for a long time and still offers notable organic reach opportunities.
In our opinion, LinkedIn does not really knock it out of the park when it comes to things like its UX design but the platform simply works for what it was built initially. And, just like with Facebook and Instagram, you have habitual features like a central newsfeed that gets a user's attention right away as well as some ad spaces within and also around it.  
In this regard, a few more numbers to get you excited: LinkedIn generates 9 billion content impressions per week (15x more content impressions than job posts) and 57% of sessions come from mobile devices.
On top of that, 82% of B2B marketers say that LinkedIn is the most effective platform for content marketing purposes.
What's also interesting in this context is that LinkedIn has been assessed as the most trusted digital platform out there.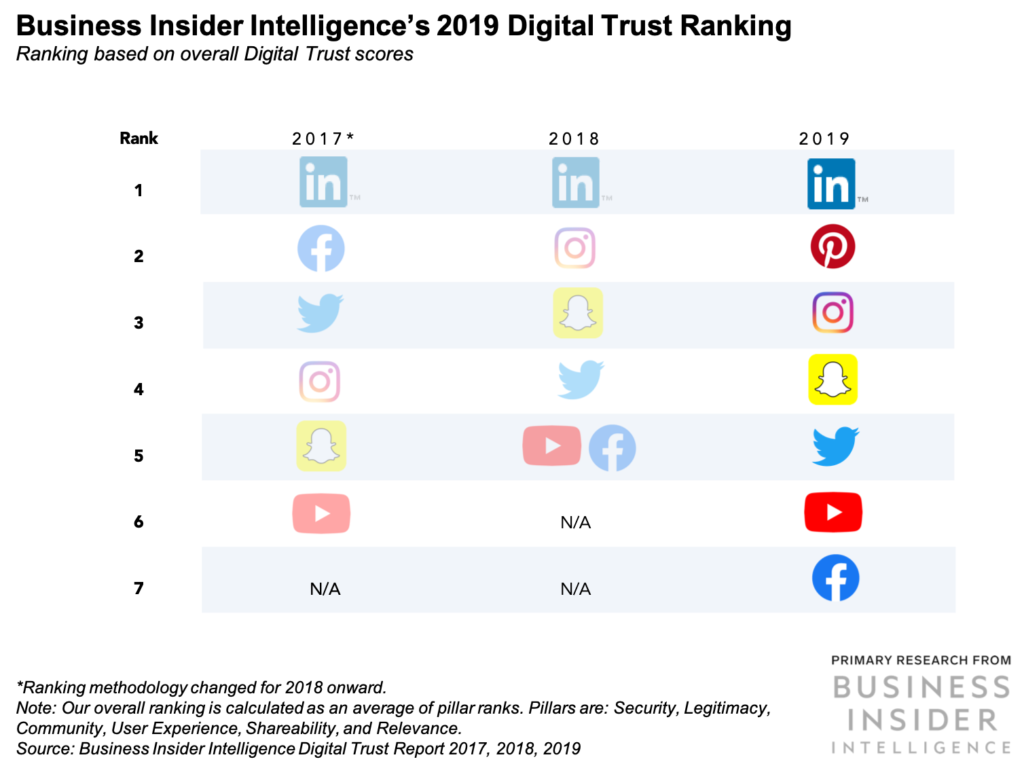 Why is that? 
Based on the nature of the LinkedIn community, users on the platform tend to be well behaved and are usually more selective and mindful interacting within their professional network. The content shared by individuals and organizations is generally focused on career-related topics and seeking to promote professional interests. All this makes up a more trustworthy environment in comparison to other channels.
3. How to get started
If you don't have a personal LinkedIn profile yet, you definitely need to get one, no matter the industry you're in. And, if you are a business owner or marketer and don't have a company page yet, the same is true for you. 
Just to clarify: In this post, we're focussing on how to leverage LinkedIn from a company's perspective. In case you are looking for advice on how to build your personal brand on the platform, don't worry – there are also some useful guides and manuals out there in the world wide web on how to do that. 
As a company, one thing that you need to do before you start posting on the platform is to answer the fundamental question: Who is your audience? Just like with any other social media platform, if you want to take LinkedIn seriously, you need to define your audience and goals first. 
Depending on the outcome of that exercise, there are a few things to keep in mind right from the start in order to engage with your audience: 
Help people find your LinkedIn page
To build a following on the platform for your marketing purposes, you also need to get users' attention outside of it. LinkedIn offers a variety of plugins to connect it to your website. For example, you can add a LinkedIn share button to your blog content in order to get it shared on LinkedIn. You can also add a company "follow" button to encourage more people to follow your company page. And, you can even add a recommendation button on your website asking people to recommend your products and services on your company page.
To gain visibility within the platform, you need to optimize your company page for search. Almost like a natural law, search algorithms like keywords – the one LinkedIn uses is no exception. That's why you should incorporate keywords and phrases on your company page that potential customers might use to search for your product or service. Include them in the "About" overview, clearly stating who you are, what you offer, and what you stand for.
Additionally, LinkedIn itself states that "links are essential for boosting your search ranking". For this, you should link to your page from your website (as mentioned above), and also make sure that the profiles of your employees are up to date. 
And, no surprise, the platform also emphasizes that you need to share relevant content often: "The more frequently you share content your followers engage with, the higher your page will appear in search results." 
Lastly, sharing and engaging insightful content from others also helps with your visibility. This leads us to the next point. 
4. What type of content works well
It might sound trivial, but after all, it is true: Only post content that your target audience will want to see. You need to make sure that you know what that is.
But, as highlighted before, the LinkedIn community is quite unique due to the platform's clear focus around business-related networking. So your content must be contextual to LinkedIn – aka it must have a professional tone and include topics, which fit that specific audience of career-minded users.
That includes a certain etiquette. While using "authentic" language has become state-of-the-art in social media marketing, LinkedIn is more like a formal gathering where you want to leave a good impression and not be the unbehaved jerk. So don't use any "bad words" even if you can drop f-bombs in front of your boss. That might be part of your company culture but if you stick to some business ethics on LinkedIn, the likelihood is higher that a vast number of people will resonate with your content. Even Gary Vee decided to adapt (or "censor") his content to not be too offending in front of the professional audience of LinkedIn. More than anyone, he is the online marketing expert that praises that you need to adapt your tone and voice respectively to the platforms where you post.
This also highlights the point that just pushing out your standard brand narrative and ad copy won't necessarily work either. LinkedIn offers the following advice in this regard: "While it can be tempting to sell your audience on the benefits of your product or service, 'salesy' content doesn't generally perform well". 
So you need to make your content matter to the LinkedIn audience. Why you? Why there? What for? 
It is recommended to share "a fresh idea" instead of bragging about your product like in a TV ad. The best way to do this is by publishing "thought leadership" content on your company page. Within LinkedIn, you have the unique chance to create awareness for your company's "why", showcase your deep understanding of the industry you're operating in, highlight that you're a great place to work at, and more. Make yourself interesting and stand out. Ask yourself: What is the thought leadership only you can provide and why? 
When operating within the environment of your company page, there is a handy feature to check out: Content suggestions based on trending topics. You can filter based on different audiences, industries, locations, etc. This is what it looks like: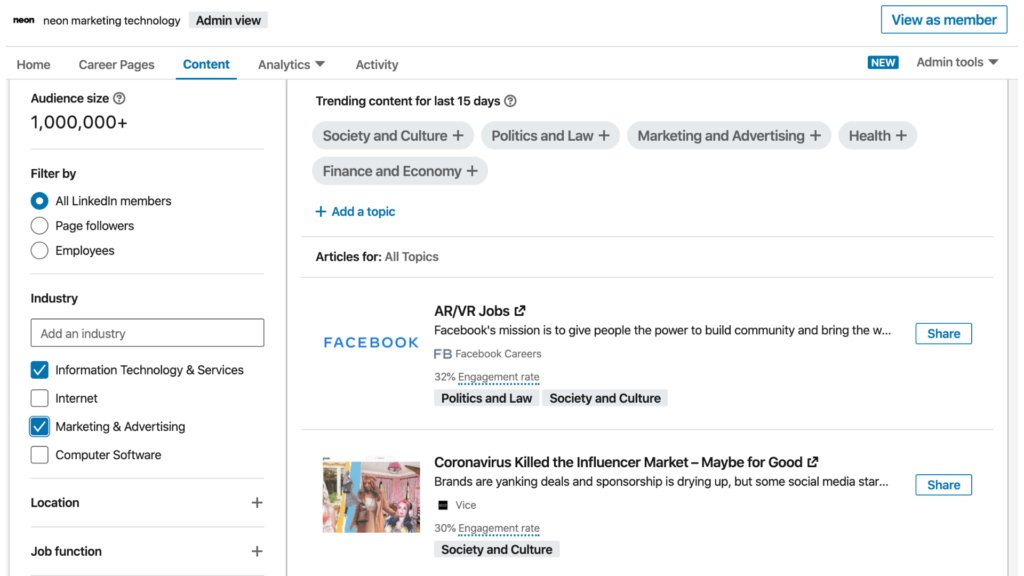 To sum it up: Be clear about what your audience wants and what you want to tell them. Define your own style and stick to it. But be unique and don't necessarily do what everyone else is doing. Keep the professional standards high.
5. A variety of content formats to choose from
To leverage LinkedIn's organic reach for sharing your brand's unique insights with your target audience and increasing engagement, it is absolutely important to use rich media. Just to put it into perspective: for example, images create 6x more engagement than text-only content.
Since most audiences love visual content, you should use it as much as you can. Luckily, LinkedIn offers to share different types of media content that you can experiment with: 
A classic ingredient in every social media marketing strategy, pictures also go a long way among the business-minded crowd of LinkedIn. Even though it is a quick and easy way for individuals to share e.g. screenshots of your notes app with some interesting insights, we do not necessarily recommend it for a company (unless you're in the note app business). Pictures should be meaningful and contextual. Stock photos can work but original content (professional photos taken by a photographer or your marketing department as well as high-quality shots snapped by your employees) is usually better as it is more authentic and unique. So it makes sense to put some effort into them. Don't post selfies or other types of pictures that you would post on your private social media profiles elsewhere – you can do that on your private profile if it adds positively to your branding. LinkedIn also recommends that custom image collages (3-4 images in one post) perform very well.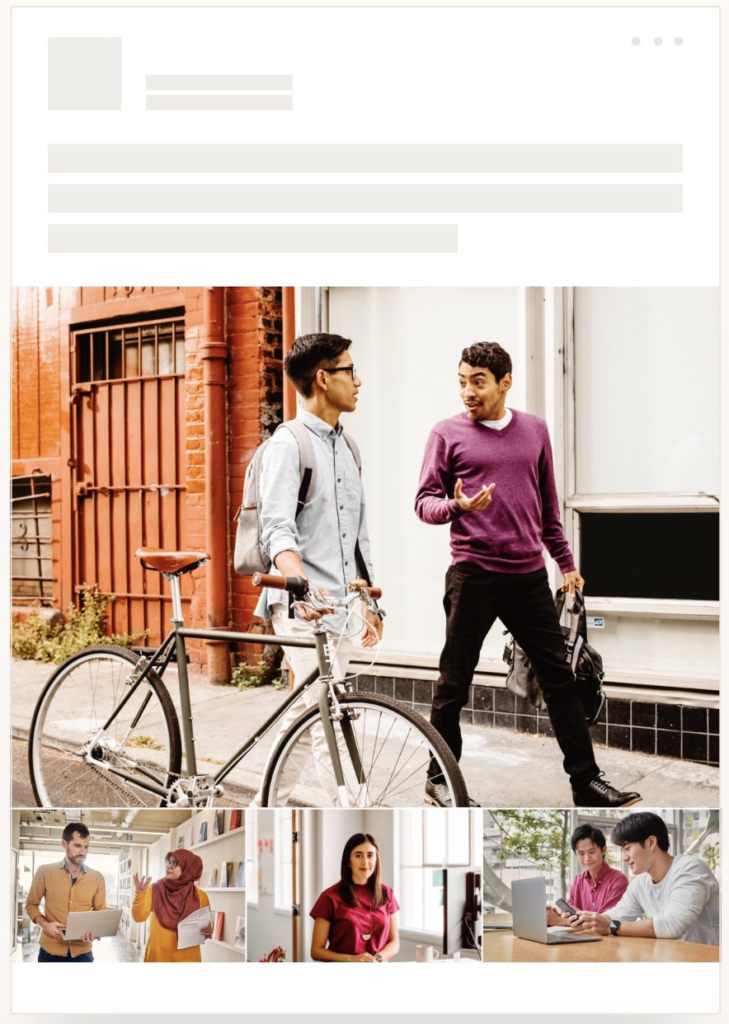 Source: LinkedIn Marketing Solutions
Multiple images can also be shared in two special ways on LinkedIn. First, you can upload documents like PDFs or PowerPoints with several pages that will then appear and work like a carousel on Instagram. Like this, you can showcase what makes your brand unique. For example, this offers the chance for a marketing agency to share thought leadership content like "5 Insights We Got from Advertising on Facebook" in a slick and quickly comprehensible way. Here is how to do easily do it: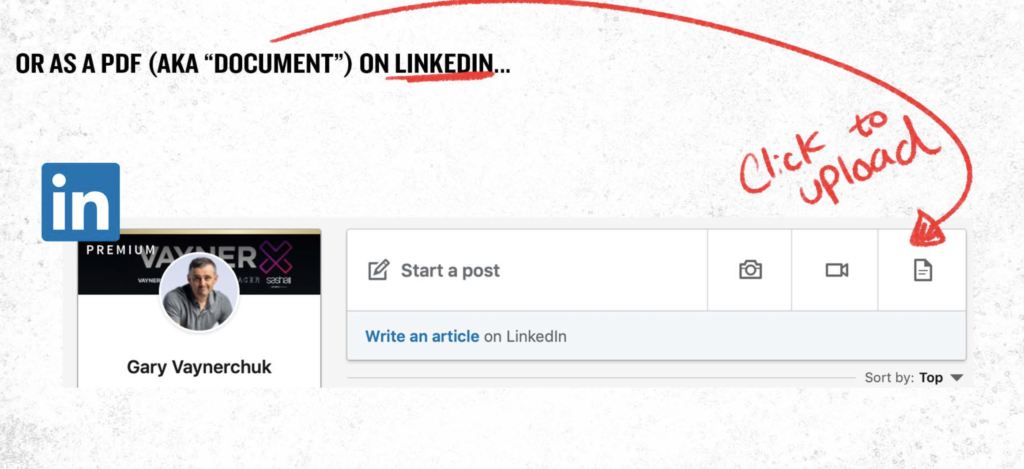 As a second option, you can also upload slide decks. Gary Vee is also a fan of them: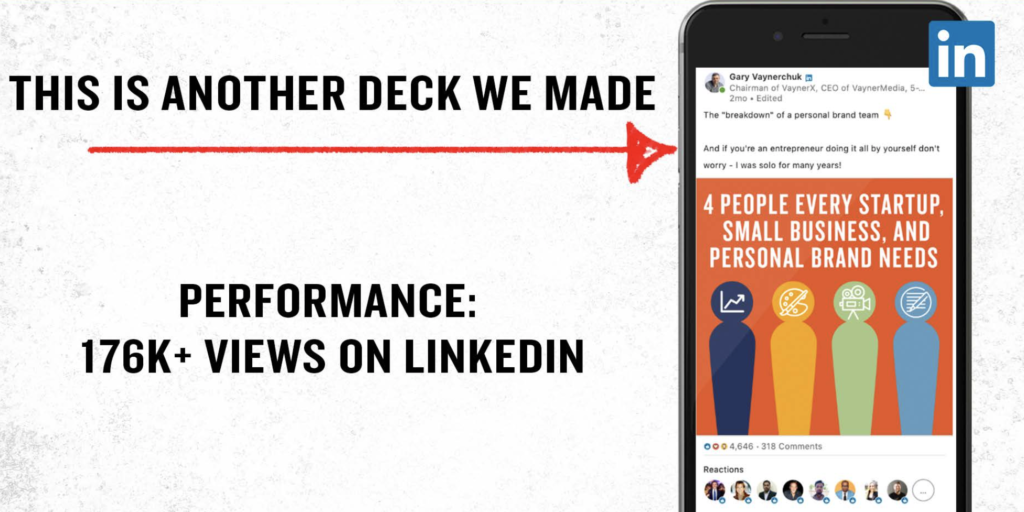 But in addition to uploading PDFs/slides, it does also work if you upload e.g. a larger report on Slideshare (which is part of LinkedIn) and then just make a post with the link to it. The title slide will then be visible as the preview of the link. Here is an example: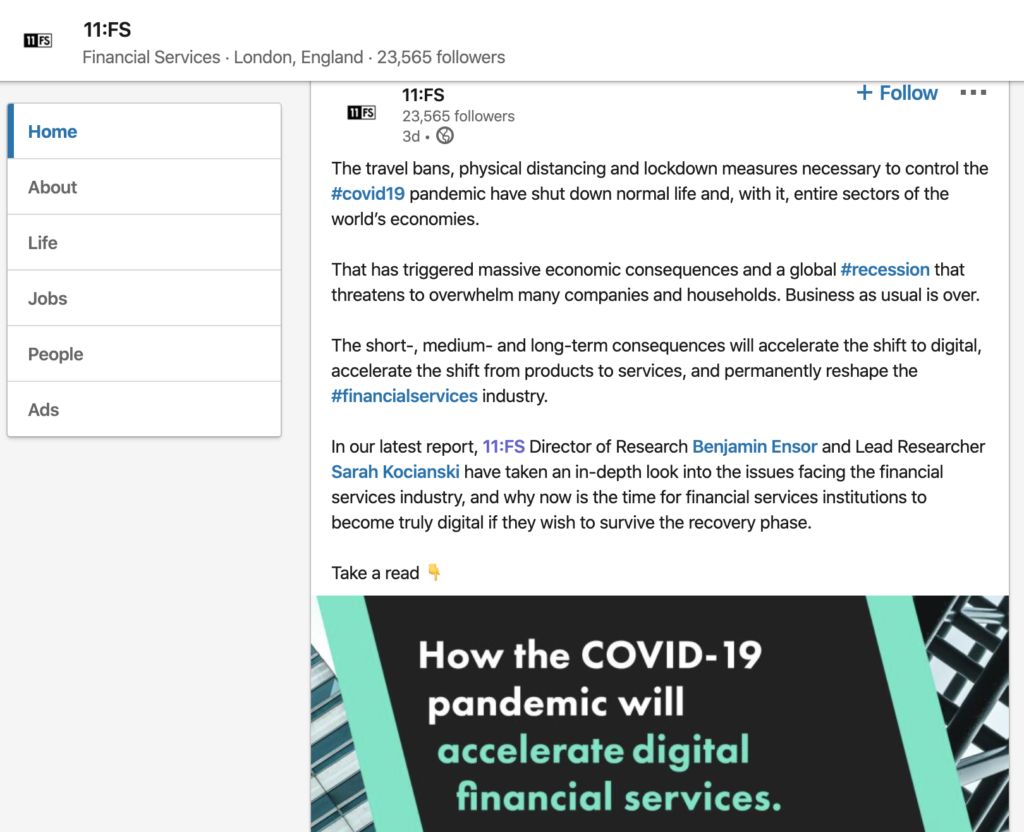 If you are curious, you can check out what it looks like to post the slides on Slideshare here.
Videos work really well on LinkedIn. They should be about 1-2 minutes long and ideally capture your audience's attention within the first few seconds. Like on Instagram, add subtitles so that people can watch them with the sound off.
One important piece of advice: Videos should be "native", meaning that you need to do the work of uploading and posting the content yourself. Just sharing posts with links to YouTube videos does not get the job done as well as originally uploaded media, which the LinkedIn algorithm prefers.
Another great way to drive the engagement of your audience: LinkedIn states that live videos actually generate 24x more comments than regular videos on LinkedIn. The good thing is that posts with live videos also stay available with a recording of the video once the live session is over. You can do live streams occasionally or – even better – schedule them so that your followers know when to tune it. Here is an example of how highly reputed London-based FinTech consultancy 11:FS is doing this: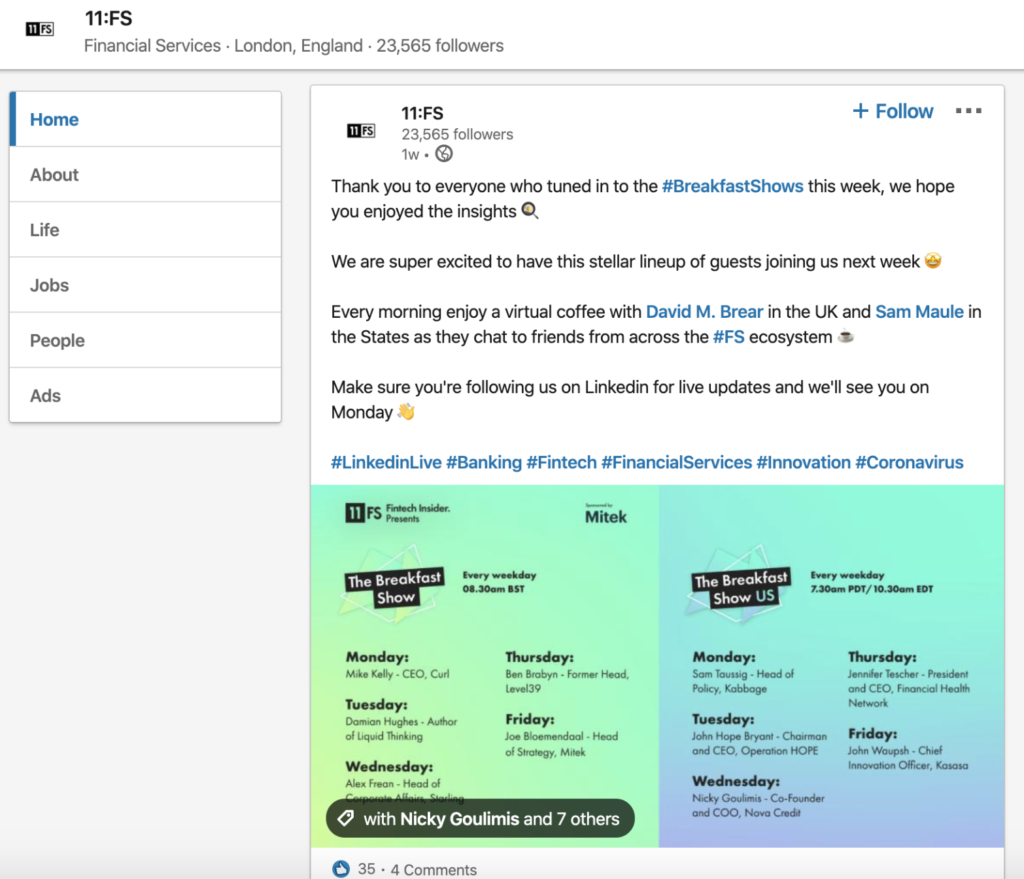 And this is what their regular live interview-based show looks like when watching it: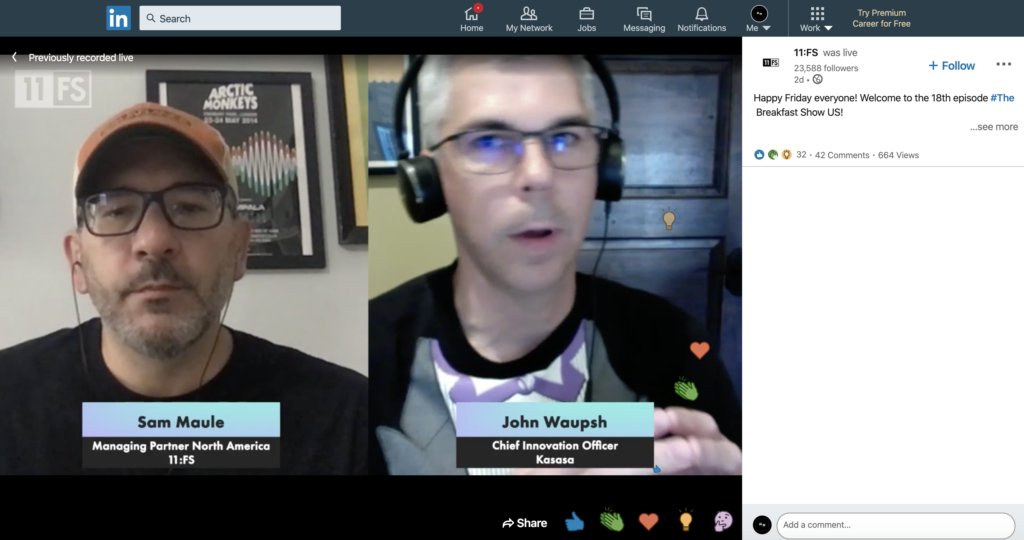 As this content format has changed the social media landscape forever since Snapchat originally came up with it, it surely should not be missing on LinkedIn. However, currently, it still is. LinkedIn is working on integrating it in the platform but as of now, it is only in a testing phase. You'll have the option to take a photo, record a video, or upload from your camera roll. The maximum length of a video on LinkedIn Stories is supposed to be 20 seconds. You will be able to add any text or stickers.
What is already great news: Once the feature is live, you can also simply repurpose your Instagram stories for LinkedIn. That should make the life of every marketing department easier! 
After all the "rich media" content formats, there is actually a more text-focused one left: LinkedIn articles. Being probably the most sought after proprietary content feature of LinkedIn for a while, articles are almost like an internal blog post feature of the platform. As an individual, you can leverage this format to write in-depth about your professional expertise and important trends in your industry. But make sure to give it a personal angle by e.g. also writing about challenges you have faced or opportunities you seized. From a company perspective, it makes most sense if someone of your top management regularly publishes "opinion pieces" on certain topics that are relevant to your target audience. For example, have your CEO write a monthly column. 
Articles are limited to 125,000 characters, which makes them clearly longer than posts (maximum 1,300 characters). We recommend continuing using meaningful photos also for this format (title picture as well as inside the main body of the text if you want). 
As of lately, LinkedIn started offering the option to set up newsletters that your followers also get notified about via email. If you want to know what it looks like when used properly, go and check out the examples of Bill Gates or Guy Kawasaki.
6. How the LinkedIn algorithm works
The holy grail of cracking any social media platform is, of course, to know how its algorithm works. LinkedIn's is a little bit simpler when comparing it to others. Still, it is complex – but luckily there are ways to make it work for you.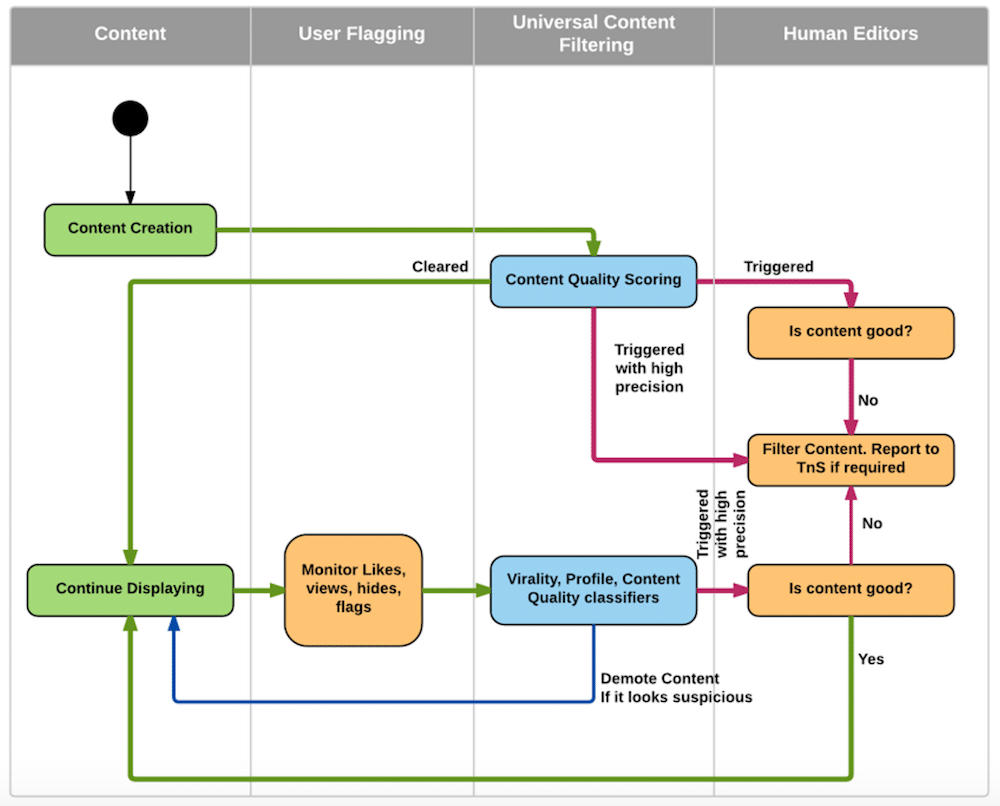 Likes and other reactions to posts give the algorithm already something to chew on, but what really makes a difference are comments! We repeat: Comments make a difference. 
Ideally, there are as many comments as possible. They should also be sort of "lengthy" in the way that LinkedIn wants its members to engage with each other and create conversations around insightful business content. So make sure that you share posts that inspire users to comment on their own. Here a few "hacks" to spark more comments: 
Controversial points of view (again, stay classy)

Ask for people's opinions and reactions

Ask a specific question

News and contemporary topics

Giveaways (ask people to comment to receive the link to e.g. a report or some other sort of freebie)
Of course, you can help by pushing a thoughtful discussion in the comments yourself. It is always eye-catching (for users and the algorithm) when the CEO or some other high-level representative of a company engages in the comments of their own company's posts. Mentioning other LinkedIn members by @-tagging them in the posts or comments supports this greatly. For example, you can give shoutouts to employees for their achievements or bring in representatives of partner organizations to support your message by mentioning them in a post or in the "conversation" below in the comments (you can, of course, return the favor and like and comment under their posts too as it also does help your search ranking).

And, not to forget, #hashtags are also a thing on LinkedIn. You can use as many as you want, but it is recommended that you use only the 3 most essential ones (quality over quantity) for your posts and articles. The hashtags should be a clear reference to your content and also check before if they are among the most popular ones of your target audience.
Lastly, a lot of people ask us what the best time to post would be. Depending on the time zone you and/or your target audience is in, you should try to post in the morning hours of a weekday (ideally Tuesday until Thursday between 08:00 AM – 02:00 PM) so that your content can wander through the algorithm just in time for people to see it while they are on their lunch break or during LinkedIn sessions later that day.
To emphasize on this: All of the tips above in combination can organically push a post to the prime position atop of thousands of LinkedIn feeds.
7. Advertising on LinkedIn
To take your content a step further, there are also paid options available. Just like YouTube, Facebook, or Instagram, LinkedIn offers a sophisticated way to place ads within the platform. Essentially, there are 4 different types of ad campaigns: 
The first option is a true "native" one. As mentioned above, great thought leadership content can get you far on LinkedIn. What gets you even further is if you place your posts in the newsfeed of your desired target group with much more of a predefined focus. You can select your audience based on the datasets of all LinkedIn profiles and your existing target user data. You can choose different types of media formats for this ad option: single image, video, or carousel. 
So-called "Lead Gen Forms" are also a handy feature of sponsored content. With these, you can add a CTA to your ad and get lead data by e.g. having people sign up for a webinar or download a report.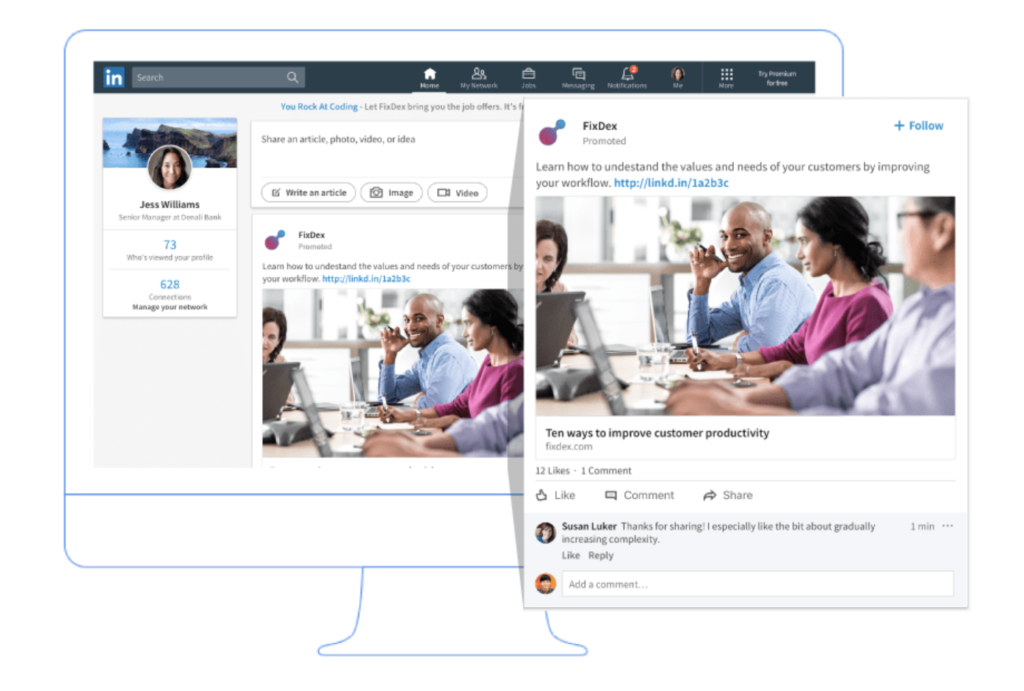 Source: LinkedIn Marketing Solutions
Normally, you cannot send messages to other LinkedIn members unless you are connected to them as an individual. With message ads, you can cold-call anyone who is part of your target audience. Like this, you can directly spark action and drive a higher response rate than with e.g. email marketing. The Lead Gen Form feature can also be used in these targeted messages to add new leads to your sales pipeline and more.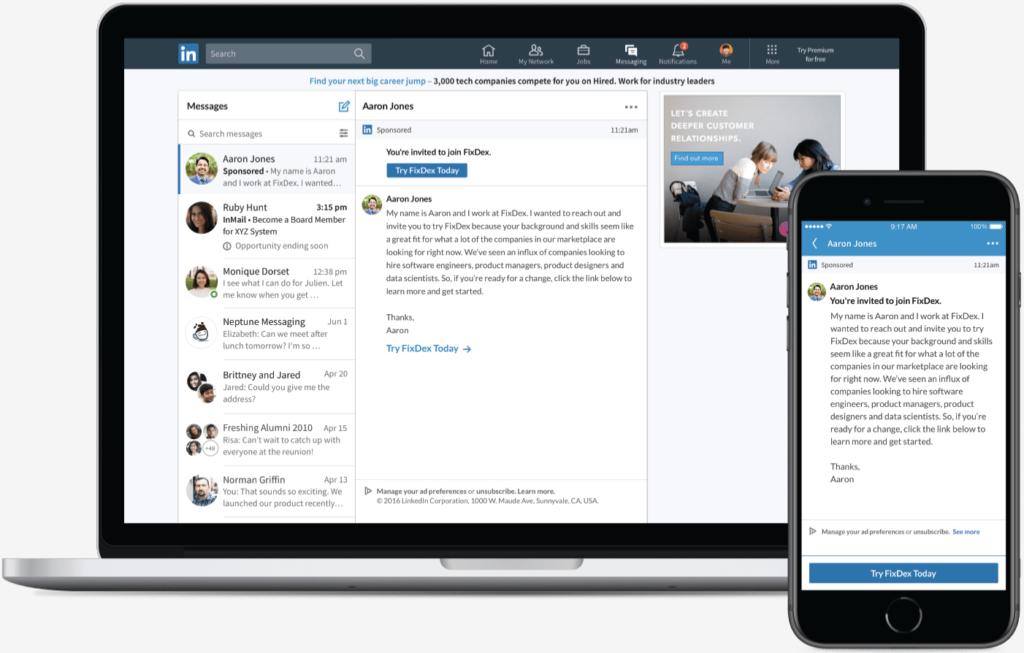 Source: LinkedIn Marketing Solutions
This is a great way to leverage ads geared towards individuals at scale as LinkedIn offers to show your ads dynamically adapted depending on the profiles of your target audience. You have three options for this: Follower Ads (to follow your page), Spotlight Ads (with a CTA, e.g. registering for an event), and Content Ads (where users can e.g. directly download the PDF of a report published by your company).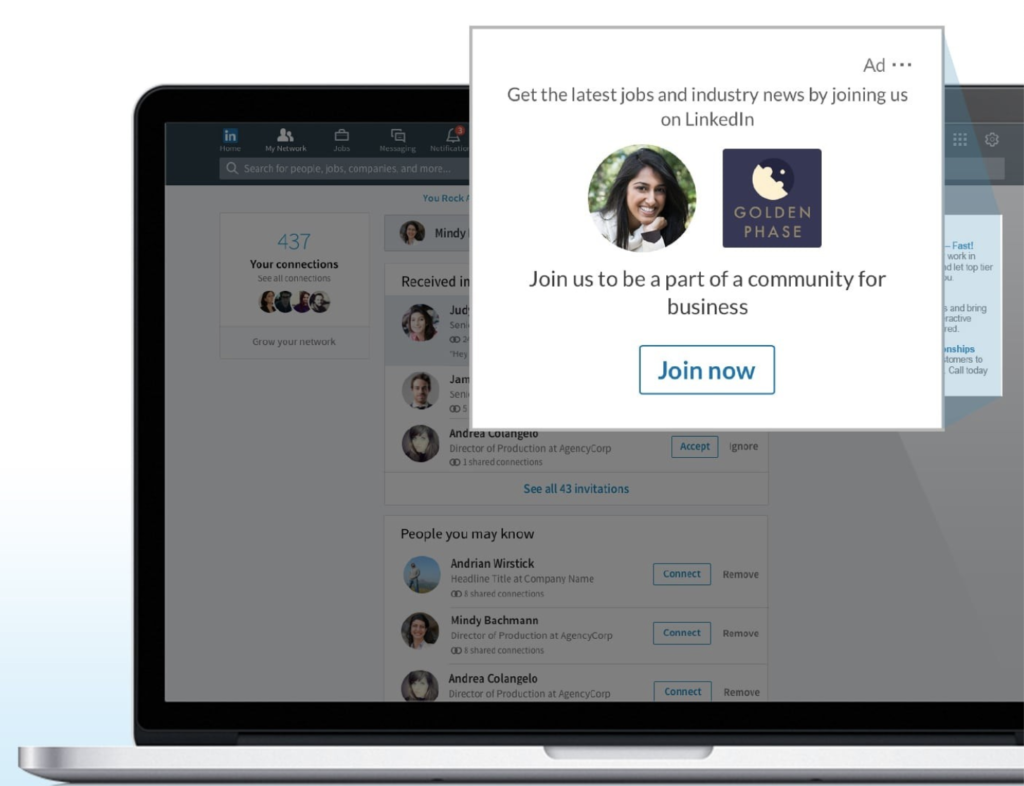 Source: LinkedIn Marketing Solutions
With this last option, you can launch an ad campaign with tailored messaging in just minutes. What is also compelling about them is that you only pay for the ads that work because Text Ads are pay-per-click (PPC) or cost-per-impression (CPM) ads.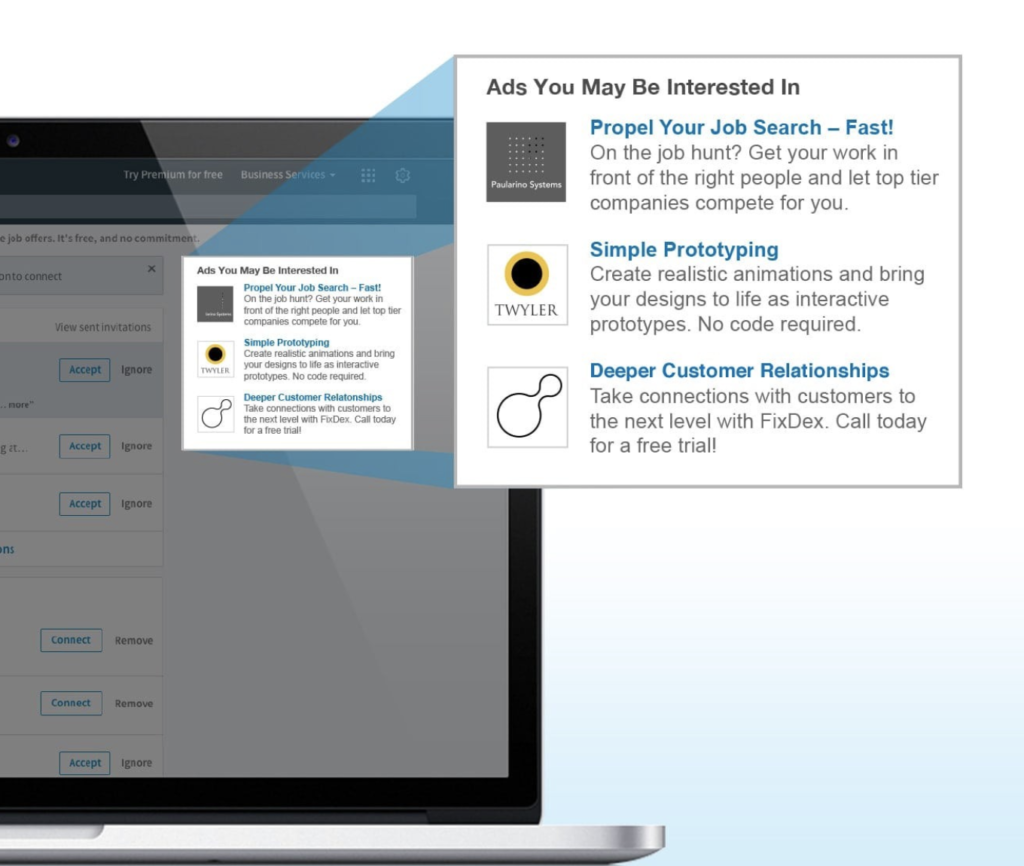 Source: LinkedIn Marketing Solutions
What is true for advertising on other social media platforms, also counts for LinkedIn: You should not invest the majority of your ad spend upfront without testing your audience. Especially when you are just getting started, make sure that you first test and learn how everything works properly. 
To say the least, LinkedIn ads are not the most affordable ones on the market. It helps to have very direct ads objectives like "website conversions". Once you got the knack of how to leverage ad campaigns properly and have some analytics data to crunch, you can increase your ad spend based on your findings.
After all, using a mix of all four of the advertising options in addition to your organic reach efforts can help you to grow your business in a beneficial and straightforward way. 
8. Get ahead with analytics
To make the most out of your marketing efforts on LinkedIn, the platform offers lots of useful analytics tools that help you find out which content is most compelling to your audience. There are several ways to dig into your target users' preferences and behaviors on this unique social media platform. For monitoring and optimizing your company's page performance, there is LinkedIn Page analytics, along with analytics for publishing on LinkedIn. To improve your paid campaign performance you can make use of the LinkedIn Campaign Manager.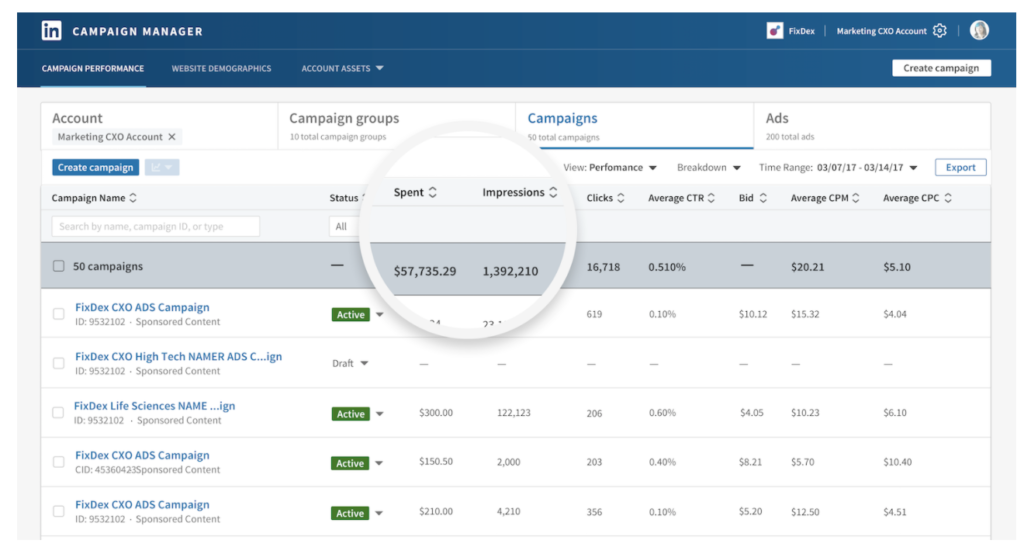 Source: LinkedIn Marketing Solutions
9. Bringing it all together
Even though LinkedIn has been around for 17 years, it has only gained real traction from a social media marketer's point of view in the recent past. Now, more than ever due to the COVID-19 pandemic, companies must leverage all existing social media channels for their marketing purposes. LinkedIn might not be your primary platform to reach your target audience, but it must be part of your marketing mix and not be left behind. The platform offers plenty of ways to share content and there is tremendous potential for building your brand with an audience that is focused on professional and increasingly personal development topics. So don't miss out on it.
Take care, stay safe, and go create your LinkedIn marketing strategy!
If this article was helpful, subscribe to our newsletter for more:
or follow us on Social Media